Hulk Hogan back into WWE Hall of Fame after racism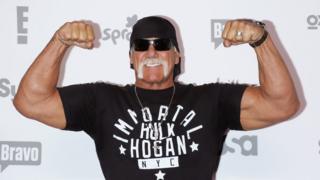 Hulk Hogan has been reinstated into the WWE Hall of Fame.
The 64-year-old is one of the biggest names in wrestling but in 2015 the WWE terminated his contract after a tape emerged of him using a racist slur.
Three years later and the company says he deserves a second chance after making "numerous apologies and working with young people, where he is helping them learn from his mistake".
Hogan said he'd been "praying for this day".
The WWE Hall of Fame features over one hundred wrestling legends, as well as people associated with World Wrestling Entertainment - like US President Donald Trump.
But back in 2015 the WWE cut ties with Hulk Hogan.
The wrestler, whose real name is Terry Bollea, was in court over the publication of a sex tape when an audio recording was submitted in evidence.
In a video made public by The National Enquirer, Hogan said: "I guess we're all a little racist" and used the n-word while referring to his daughter's love life.
Hogan later called the 2007 incident the "biggest mistake" of his life.
The WWE terminated its contract with Hogan in response - although, at the time, his lawyer said he resigned.
Despite Hogan's apology, the WWE removed all references of him from its website.
The 64-year-old made his professional wrestling debut in 1977 and was inducted into the WWE Hall of Fame in 2005 by Sylvester Stallone.
Having reinstated him, the WWE says: "This second chance follows Hogan's numerous public apologies and volunteering to work with young people, where he is helping them learn from his mistake.
"These efforts led to a recent induction into the Boys & Girls Clubs of America Alumni Hall of Fame."
Hogan has also posted about the news on his Instagram account.
In a statement he says he's been "praying for this day".
Fans and fellow wrestlers have been reacting to the news that one of wrestling's most famous exports has been welcomed back into the franchise.
Wrestler Zack Ryder was one of those to share the news with his two million Twitter followers.
While Hogan's daughter Brooke, who used to star in the reality TV show Hogan Knows Best with her dad, said Hogan has made a "transformation".
There's now talk of a possible TV return, but not everyone thinks the WWE should have forgiven him.
Hulk Hogan's has been wrestling since the 1970s and is widely regarded as one of the greatest wrestlers ever.
He is a six-time WWF/E world heavyweight champion and a six-time WCW world heavyweight champion.
Hogan also won the Royal Rumble in 1990 and 1991, making him the first man to win two consecutively.
Follow Newsbeat on Instagram, Facebook and Twitter.
Listen to Newsbeat live at 12:45 and 17:45 every weekday on BBC Radio 1 and 1Xtra - if you miss us you can listen back here.