Mamma Mia 2: Cher makes Abba's music 'sound like hers'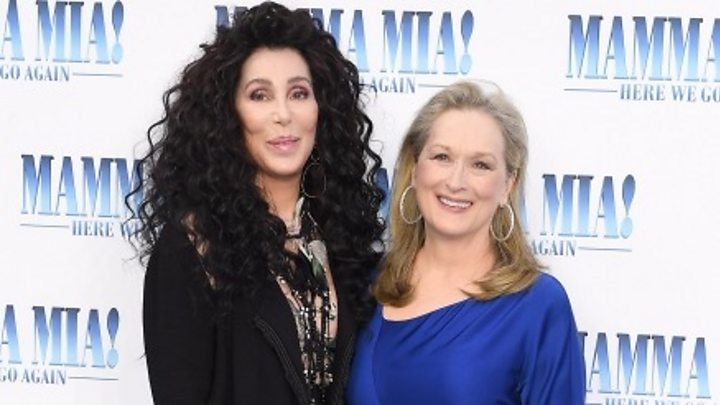 Abba say Cher is "perfect" in Mamma Mia 2 and makes their music "sound like it was hers".
"What can you say? She's an icon," says the group's Benny Andersson, who was at the premiere of the new film, based on the songs of Abba.
"She makes Fernando her own. It's her song now," says his co-writer Bjorn Ulvaeus.
Cher is a new addition to the cast of the film, which comes out 10 years after the first Mamma Mia.
Here's what we learned from the London premiere on Monday night.
Everyone loves Cher (obvs)
"What can you say? She's an icon. I always liked Cher," says Benny.
"When I heard that she'd said 'Yes' to play Meryl Streep's mother, that was so cool."
Bjorn adds: "Cher is a wonderful storyteller, and she's a bit mysterious like that song (Fernando) is."
Nobody really knew who Fernando was, he says - at least until Cher sung it.
Now Bjorn can only see Andy Garcia - who plays the character of Fernando, Cher's love interest.
The 72-year-old plays Meryl Streep's mum, despite only being three years older. But she says that doesn't bother her.
"I don't think about it, because it's not real.
"When you go into these movies, you suspend reality and it's just fun. That's all it is."
Spare a thought for Pierce Brosnan
Pierce was many people's favourite thing about the first Mamma Mia.
But seemingly he's not Cher's cup of tea.
She bought the men in the cast personalised necklaces and delivered them to their hotel rooms just before the premiere.
Somehow, she missed out Pierce.
"But," he said graciously, "I don't need a present from Cher. Just being with her on the stage and hanging out with her was a great gift in itself."
Very nicely handled from the Bond actor - which is who he will always be to some of the cast.
"You never quite get over that voice in the back of your head going 'Oh my word, that's someone who I grew up wanting to be'," says Jeremy Irvine, who plays the young Pierce in the flashbacks.
"I think Pierce must deal with people all the time who just see him as Bond, so he's got this amazing way of very quickly making you feel at ease and making you comfortable."
Mamma daughter
Amanda Seyfried, who plays Meryl Streep's daughter (and Cher's granddaughter), says the film is about mother-daughter relationships.
The first Mamma Mia film was about her character discovering who her real father was.
In the sequel, she finds out more about her mother's past, complete with flashbacks.
And she can't wait to watch it with her own mum.
"It is her birthday on Friday, so I'm going to take her myself to a showing in our very small town in upstate New York to watch it," she says.
"It will be a really, really awesome experience to watch it with her."
Those songs are timeless
Most of the young cast members weren't even born by the time Abba broke up in 1982 - but everyone has their own story of hearing the Swedish pop group as a kid.
Lily James, who plays a young Meryl Streep, remembers dancing to their songs.
"My dad used to play Waterloo to me on one of those CDs he made for dinner parties or as a compilation for my mum.
"Then I went and saw the stage show when I was 10. It's mind blowing. I can't actually put it in words."
New music's on the way
A few months ago, Abba announced they were releasing their first new music in over 35 years.
"Going into the studio with the two ladies was an absolute dream," says Bjorn.
"We found ourselves in the control room of the studio, looking at each other and it was strangely familiar.
"It took half a minute and we were back like it was yesterday. It is that sound that is kind of magic."
As far as we know, they're not planning anything beyond the two songs they've announced - but maybe we'll hear more if there's a Mamma Mia 3.
"We're going to need them if we're going to do another film," Benny says.
Follow Newsbeat on Instagram, Facebook and Twitter.
Listen to Newsbeat live at 12:45 and 17:45 every weekday on BBC Radio 1 and 1Xtra - if you miss us you can listen back here.