'Homophobic' jokes about Trump and Putin criticised by LGBT campaigners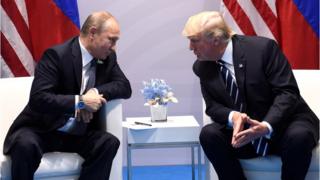 Mocking Trump and Putin by suggesting they are gay is a "damaging trend" which needs to stop, LGBT campaigners have said.
The New York Times was criticised this week after it tweeted a cartoon depicting the US and Russian presidents on a date with one another.
It was posted ahead of their meeting in Helsinki on Monday.
Commentators said they were tired of homosexuality being used to mock Trump.
It was immediately met with criticism after it was tweeted.
Among those criticising the New York Times was Brian Sims, a US politician in Philadelphia. He's also an LGBT activist.
He told Newsbeat: "Ultimately, the punch line here is that they're gay and that would infuriate each man because they're homophobic.
"Each of them is responsible for anti-LGBT rhetoric and policies, and so the New York Times felt like they'd be madder at the insinuation than the LGBT people whose love and relationships being mocked are."
'This isn't political satire, it's just old-fashioned homophobia'
Kim Sanders, head of media engagement at LGBT charity Stonewall called these jokes "a damaging trend".
"Depicting public figures as gay or bi in an attempt to mock them is a damaging trend that needs to stop," she said.
"These images reinforce a harmful narrative that being LGBT is inferior or something to be ridiculed.
"This isn't political satire, it's just old-fashioned homophobia."
Not just Trump and Putin
Jokes about Trump and other male world leaders have also been met with criticism.
In the run up to Trump's meeting with North Korea's leader, Kim Jong-Un, comedian Kathy Griffin tweeted a mock up of Kim and Kanye's wedding Vogue cover - but with Trump and Kim in their place.
Follow Newsbeat on Instagram, Facebook and Twitter.
Listen to Newsbeat live at 12:45 and 17:45 every weekday on BBC Radio 1 and 1Xtra - if you miss us you can listen back here.