Drake's Fire In The Booth: The inside story from Charlie Sloth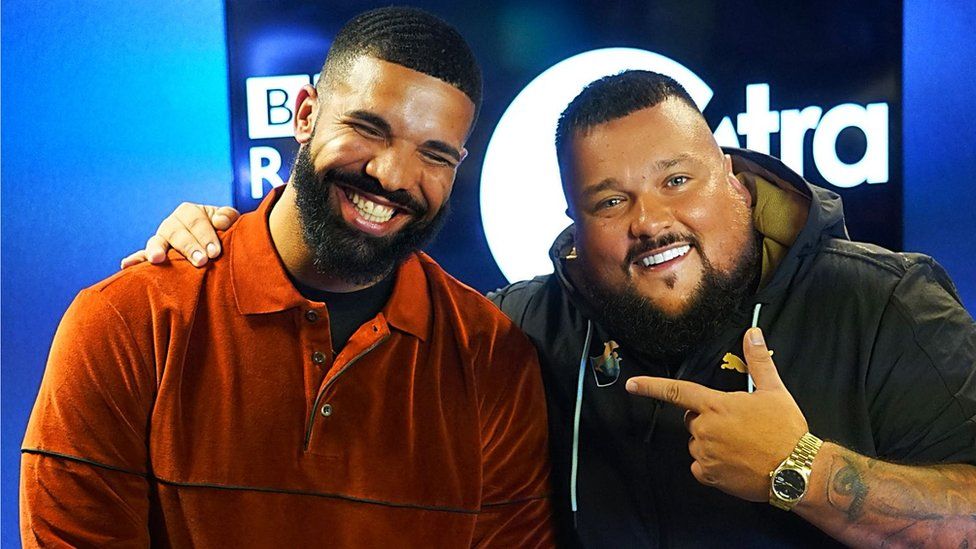 Drake's Fire In The Booth appearance has got a lot of love from all over the world.
The Canadian rapper made his much-anticipated debut on Charlie Sloth's freestyle segment on Radio 1/1Xtra on Saturday.
But his appearance - which was recorded at 2:30am - has been "four or five years" in the making, according to Charlie.
And they've already agreed that Drizzy will be back next year for part two.
Warning: Drake's full Fire In The Booth contains some strong language that you may find offensive.
"He originally messaged me to talk about Fire In The Booth and how much he loved it," Charlie tells Newsbeat.
"We just continued our conversations and kept it organic as two massive fans of the music and the culture."
Charlie's been asking him to come on 1Xtra's Rap Show ever since.
He says he's known for about three months that Drake was going to appear around the release of his new album.
Drake was in the UK in early July, but the appearance kept getting pushed back.
"We were going to do it on Sunday, after his party, and the party got too good, so we didn't leave," says Charlie.
"Then we said we'd do it on Monday but we were too hungover from the party on Sunday. Then we said we'd do it on Tuesday. We went for dinner, then there was a massive party afterwards, so we didn't do it on Tuesday."
Drake was meant to fly back on the Wednesday, but he cancelled his flight to make it on to the show.
"Roll on to 2:30 that morning. Drake left the club round the corner where he was having a few drinks and he came up - just him and his security guard - and we got cracking," says Charlie.
The appearance was so secretive, only Charlie's producer on the rap show knew.
There was no red carpet rolled out for the biggest rapper in the world - he was drinking prosecco out of a paper cup from the staff kitchen by the studio.
"We had a couple of drinks, chilled out, and then he jumped in and done his thing in one take," says Charlie.
"It's not too often that I say 'That was one take'. It's a lot of pressure. There's no hiding.
"So there's no sound effects - apart from mine obviously. Which I tend to use excessively."
Does Charlie think that Drake would have had to practise to get it in one take?
"Of course - you have to. You can't come in there without practising.
"It's like being a sportsman. You want to be the best."
For Charlie, as well as being a great Fire In The Booth, it was "A very special moment personally".
"I always set myself personal goals as a DJ and as a broadcaster, and that was one of them that I've been trying to achieve for a long time.
"I put a lot of work in building that relationship, showing that he can trust me. And it paid off."
So much so that Drake said on air that he'd be back in January or February "for part two."
Charlie also adds that having Drake on the show is special because of the rapper's love of British music.
"More people around the world are paying attention to British music" because of Drake, Charlie says, "and that, for me, is the win in this."
"Toronto and London have always had this weird, special bond - musically, and in terms of lifestyle. So it's not that surprising that he is as passionate about British music as he is."
Charlie's not short of praise for the rapper: "People see Drake on his pedestal as being this gigantic superstar.
"But he's just a normal person - very caring, very loving, very respectful.
"I get to meet so many incredible people but I have to say that he is one of the most incredible people in the industry that I've met.
"He likes delivering music that touches people - and he does it so well."
Charlie Sloth was speaking to Newsbeat's Gurvinder Gill. Words by Imran Rahman-Jones.