Katy Perry had 'situational depression' after Witness album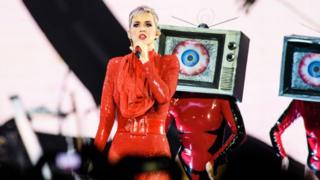 Katy Perry says she had "bouts of situational depression" following the release of her latest album.
Witness reached number six in the UK charts when it was released in 2017, while her two previous records both reached number one.
The 33-year-old says she'd put a lot of "validity" into the public reaction, "and the public didn't react in the way I had expected, which broke my heart".
Katy says she ended up visiting a "personal growth retreat" as a result.
The build-up to the release of the pop star's fourth album was huge.
Katy live-streamed herself for 72 hours in the hopes of getting fans interested.
But Witness didn't perform as well as expected - leading to "difficult conversations" with her record label.
Speaking to Vogue Australia, Katy says meditation retreats and meeting the Pope - she was raised Catholic - helped her get over the disappointment.
"That brokenness, plus me opening up to a greater, higher power and reconnecting with divinity, gave me a wholeness I never had.
"It gave me a new foundation. It's not just a material foundation: it's a soul foundation."
As for how her mental health affects her art, Katy says: "The biggest lie that we've ever been sold is that we as artists have to stay in pain to create."
Analysis by Sinead Garvan, Radio 1 Newsbeat entertainment reporter
It is unusual for an artist to be quite so open about the flop of an album.
So this interview is refreshing in the sense that Katy admits she felt very hurt by the public's response and relative failure of Witness.
Usually, huge popstars will ignore the bad reviews or brush them off saying they don't care.
For Katy to open up about how badly this affected her shows a fragile side - something it's easy to accuse popstars of not having.
Despite the negative reviews, Katy is still very much on top - being revealed as the highest paid female pop star in the world over the past 12 months.
Part of that will be due to her Witness tour, which ends in Australia this August after starting in Canada last September.
Follow Newsbeat on Instagram, Facebook and Twitter.
Listen to Newsbeat live at 12:45 and 17:45 every weekday on BBC Radio 1 and 1Xtra - if you miss us you can listen back here.