Scottish wildcat: 'Rarest kittens' in the world rescued, group says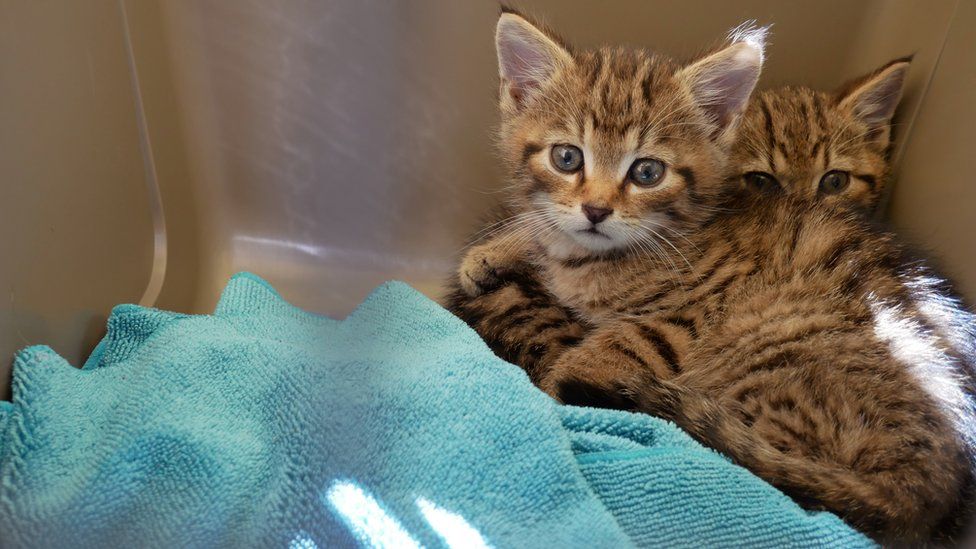 Two orphaned Scottish wildcat kittens have been rescued, a conservation group says.
Wildcat Haven says the animals were found "dehydrated" and "weak" in the West Highlands of Scotland.
The group says the kittens are being cared for until they're old enough to be released into the wild.
Only 35 wildcats are left in Scotland, Wildcat Haven says. The kittens' rescue offers hope to a species which is near extinction.
Wildcat Haven says it was made aware of the kittens' existence after a member of the public reported seeing them.
The group says they were rescued 24 hours after they were spotted.
Its team says it used remote cameras and bait to figure out that there was no mother looking for the kittens and that they were orphaned.
"I almost fell off my chair when I saw the photos," says Wildcat Haven's chief scientific advisor Dr Paul O'Donoghue.
"The markings looked amazing, far better than any kitten I'd seen in a zoo."
The feline siblings are currently being looked after in their own acre of a fenced forest established by Highland Titles, another conservation group and supporter of Wildcat Haven.
"We set it up last year," explains Highland Titles Founder and conservationist, Dr Peter Bevis.
"I thought we could fence off some of our forest and that would be a good place for an injured wildcat to recover before being released back into the wild.
"I never expected that we'd have two orphaned wildcat kittens coming to stay though."
Cross-mating with domestic feral cats has meant that "pure" Scottish wildcats are disappearing into the feral cat gene pool.
According to Wildcat Haven, feral cats now outnumber wildcats in the Highlands by as much as 3,000 to one.
They say there are currently only 35 pure Scottish wildcats left in the world, meaning these kittens represent 6% of all the Scottish wildcats in existence.