XXXTentacion death: Four men charged with rapper's murder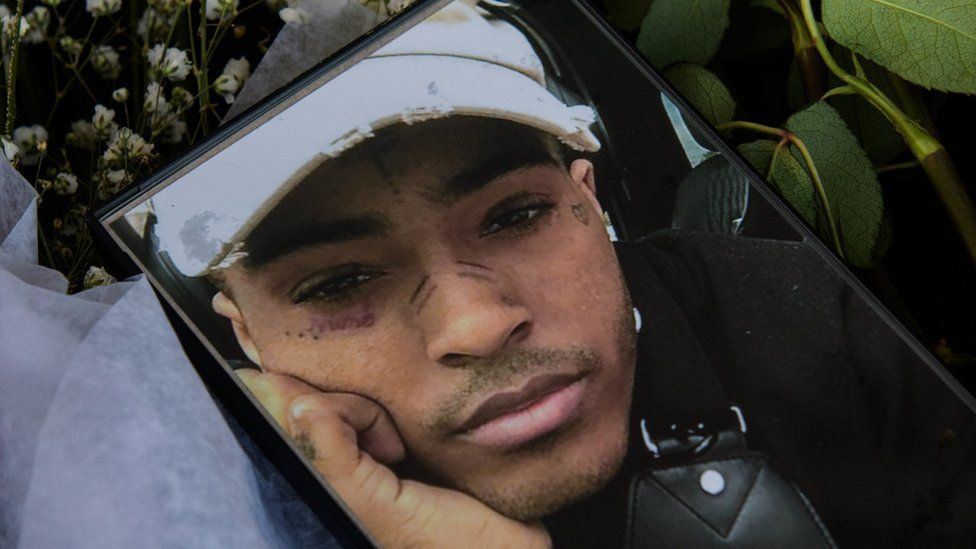 Four men have been charged with the murder of Florida rapper XXXTentacion, who died in June.
They have been named by Broward County Sheriff as Dedrick Williams, 22, Michael Boatwright, 22, Trayvon Newsome, 20, and Robert Allen, 22.
Williams and Boatwright have been arrested, while Newsome and Allen remain at large.
They are charged with first-degree murder with a firearm and armed robbery.
The controversial rapper, who faced domestic violence charges and had served multiple jail terms, was killed aged 20 in Florida on 18 June.
His music explored themes of depression, loneliness, abandonment and suicide.
Many of his tracks climbed up the charts in the UK and US after he was shot, sparking questions about whether it was possible to separate his abusive personal life from his art.
Dedrick Williams was arrested two days after XXXTentacion died in hospital.
Michael Boatwright was charged with murder on 10 July. He was already in jail after he had been arrested on drug charges five days earlier.
XXXTentacion, whose real name was Jahseh Onfroy, was visiting a motorcycle shop and left in broad daylight when he was approached by two men.
Both were masked and armed, and "demanded property" from XXXTentacion, according to Detective John Cucio.
At least one of the men shot him, before fleeing the scene in an SUV.
The rapper's girlfriend announced she was pregnant a few days after he was killed.
"He left us a final gift," Cleopatra Bernard wrote on Instagram, next to an ultrasound picture of the unborn child.
In his video for Sad, which was released after his death, the rapper attended his own funeral and fought his resurrected dead body, before "killing" his old self.