Greg James posts emotional message as he swaps shows on Radio 1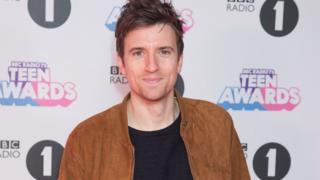 Greg James has written an emotional post to fans before taking on "the biggest challenge of my life" and swapping slots with Nick Grimshaw on Radio 1.
In September Nick will step down after almost six years on the Breakfast Show.
He will take over Greg's drivetime show and Greg will be moving to the morning slot.
Greg put up an emotional tribute on social media, saying: "If you listen to my show regularly, this is for you".
"I don't want to get too sappy over this because I'm about to take on the most exciting job in the world but... A lot of life happens in six years," he wrote.
The 32-year-old said that through the "good and bad" his audience has always supported him.
"I've relied on you to provide brilliant bits for the show and if you've relied on me to bring some stupidity to your day, that makes me incredibly happy," he said.
He thanked the show's news presenter, Newsbeat's Chris Smith, calling him "the smartest man I know. Also one of the funniest."
He added: "I'm sad we won't be working together on the new show but I have loved every second with him on air.
"And have got a best mate out of it. There's no-one that gets my brain quite like him and it's been a total pleasure to come up with stupid ideas with him."
He continued: "The next thing I do is going to be the biggest challenge of my life but I am so ready for it. And I hope you can join me on it. Bring on the nonsense."
Paying tribute to Nick Grimshaw, who he's been playing a national game of hide and seek with this week, Greg said: "All my love to Grim who is going to be brilliant in the afternoons.
"It's a show that has incredible listeners who love a laugh and it also has the best hours in the world, which I know he'll love.
"He is insanely talented and it's been a pleasure to spend loads of time with him recently working out this change over and the hide and seek madness.
"Me and him are gonna do a load more stuff like that in the coming months. Oh, I got sappy, sorry."
Follow Newsbeat on Instagram, Facebook and Twitter.
Listen to Newsbeat live at 12:45 and 17:45 every weekday on BBC Radio 1 and 1Xtra - if you miss us you can listen back here.