Brooklyn Nine-Nine cast talk about race and sexuality at Comic-Con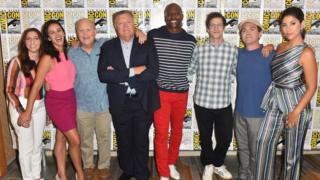 The cast of Brooklyn Nine-Nine have appeared together on a panel at San Diego's Comic-Con.
The show is known for its diversity and progressive ideas and the actors talked to fans about issues including race and sexuality.
They are five weeks into pre-production for the sixth series which will be broadcast by NBC.
"We've got a bunch of scripts; we've got a bunch of stories; it's going to be good," co-creator Dan Goor said.
Warning: This story contains spoilers for Brooklyn Nine-Nine.
Brooklyn Nine-Nine has been praised in the past for its intersectional representation and inclusive humour.
The show stars two Latina women and both Melissa Fumero (who plays Amy) and Stephanie Beatriz (who plays Rosa) were thanked by a fan for their "amazing" character portrayals.
They also spoke about Rosa's storyline of coming out as bisexual, which Stephanie was heavily involved in planning.
The 37-year-old actor publicly revealed her own bisexuality in 2016 and says this partly influenced her character's story.
"Dan is a person who believes in equality and inclusivity and that shows in his writers' room," she said.
"He wanted a bisexual's voice to be heard in that storyline and it just so happened the person playing the character is also bi and it was a gift.
"We did it in a really amazing way."
Gina Rodriguez, who stars in the comedy drama, Jane the Virgin, appeared on the show last season as Rosa's love interest, Alicia.
Asked by a fan if she'd experienced any similar real-life moments to that of Rosa seeing Alicia for the first time Stephanie revealed what it was like realising she was bisexual.
"I'd see a shiny pony tail swinging and it wasn't like, 'I want to put that in my hair.' It was like, 'I want to put that in my mouth!'" she recalled.
In terms of Brooklyn Nine Nine's male characters, Joe Lo Truglio said his depiction of Boyle is "something the world needs".
"Boyle is not afraid to show unadulterated affection," he said.
Similarly, Terry Crews said his character - also named Terry - is more like him than any other character has been.
And he was thanked for the part he played in the #MeToo movement against sexual harassment and assault.
Fans shared their excitement of seeing the cast back together on Twitter.
The cast didn't reveal too much about the next season of the show, but co-creator, Dan Goor, did reveal that he's "hopeful" for the return of Gina Rodriguez as Alicia.
But, certain episodes will focus on Jake and Amy's lives as newlyweds, as well as a possible Hitchcock and Scully special that will delve into their past.
Follow Newsbeat on Instagram, Facebook and Twitter.
Listen to Newsbeat live at 12:45 and 17:45 every weekday on BBC Radio 1 and 1Xtra - if you miss us you can listen back here.