Ryan Reynolds wants a more LGBT Deadpool in future movies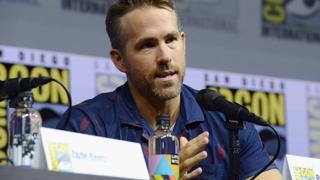 Ryan Reynolds says he hopes to explore Deadpool's sexuality in future films in his superhero franchise.
The actor was speaking at San Diego Comic Con 2018 alongside actors from this year's Deadpool 2 movie.
Deadpool 2 was the first superhero movie to show an LGBT relationship on screen.
His female X-Men sidekicks Teenage Negasonic Warhead and Yukio were seen as a couple in the film.
"I certainly think that this universe needs to represent and reflect the world in very real ways," said Ryan during the Deadpool 2 panel.
"The great thing about Deadpool is that we're allowed to do things that other superhero movies don't necessarily do."
He stopped short of confirming anything, saying that any exploration of Deadpool's sexuality was just what he'd like to see in sequels.
"It's something that I'd love to see more of, certainly through Wade, certainly through this universe," he added.
In 2015, Tim Miller, who directed the first Deadpool movie, confirmed the anti-hero would be pansexual in the X-Men universe.
"Pansexual. I want that quoted. Pansexual Deadpool," he said in an interview at the time.
Pansexual is when a person is attracted to someone for their personality regardless of their sex or gender.
But this has yet to be explored on screen, with Morena Baccarin playing Wade Wilson's love interest in the two Deadpool movies.
Superhero movies have been criticised for their lack of diversity.
But recently LGBT characters have been making more of a mark in superhero TV shows.
Transgender actress Nicole Maines has been confirmed to play the first trans superhero Dreamer in the Supergirl TV series.
DC's Legends Of Tomorrow featured two gay superheroes, Citizen Cold and The Ray, played by gay actors Wentworth Miller and Russell Tovey.
Marvel's 2017 series Runaways featured an LGBT relationship between two female characters - Nico and Karolina - played by Lyrica Okano and Virginia Gardner.
Follow Newsbeat on Instagram, Facebook and Twitter.
Listen to Newsbeat live at 12:45 and 17:45 every weekday on BBC Radio 1 and 1Xtra - if you miss us you can listen back here.