Demi Lovato: 'How Demi has helped me' stories shared by fans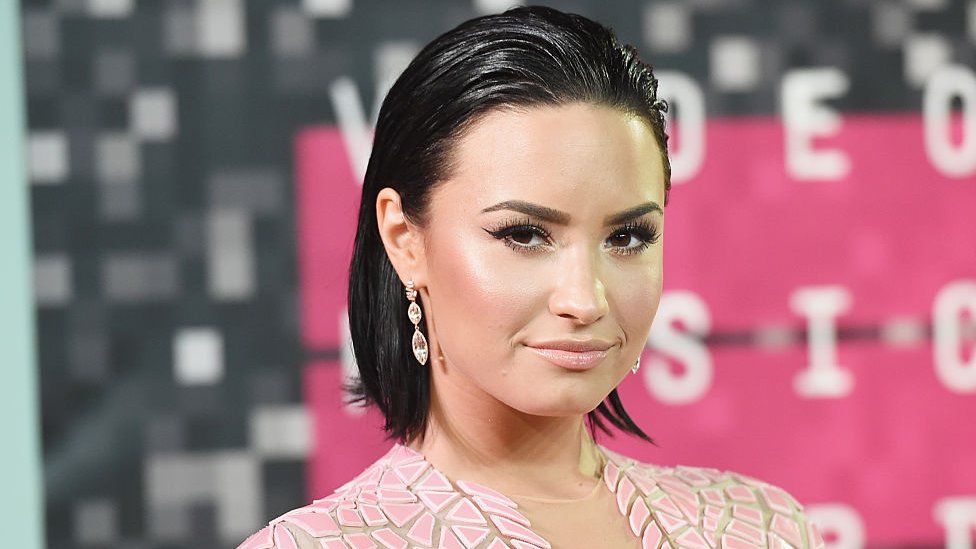 Demi Lovato fans are sharing stories of how much the singer means to them using the hashtag #HowDemiHasHelpedMe.
Demi has struggled with addiction, eating disorders, bipolar and depression, which she's spoken about previously.
A spokesperson for the pop singer told the BBC she is "awake and with her family".
It wasn't clear from the song whether Demi was referencing breaking her sobriety in June or in the past.
Some people have been sharing their stories of the impact she's had on their lives using the Twitter hashtag.
One of those people is 21-year-old Nicole Smith from Manchester, who says the Sorry Not Sorry singer helped her through anxiety and depression after she lost a close family member.
Nicole was at the Ariana Grande concert where the Manchester Arena bombing took place in May 2017.
She says going to Demi Lovato's concert last month helped her overcome her fear of going to live gigs.
#HowDemiHasHelpedMe she has helped me through my anxiety and depression in the past but this year, after seeing her live, she brought back my true love for concerts; something I had lost since last May and thought I'd never get back... I couldn't be more grateful ♡

— Nicole (@Ariana_GIAW) July 25, 2018
"I had always been an anxious child and had suffered with different forms of anxiety, but in that time (after losing a relative) it was the worst it had ever been," she tells Newsbeat.
"Through her music and knowing her past, it really helped me to open up about it and seek the help I needed at that time."
"I attended Demi's concert in Manchester and this was the first time since the Manchester attack.
"I was extremely nervous, but by the end of the concert I got that same enjoyment from a concert that I used to get before the attack, something I had not felt in a long time, and thought I had lost forever."
23-year-old Laura from Melbourne, Australia has suffered from an eating disorder, anxiety and depression since age 15 and says Demi has "always been there" for her.
"Her music always speaks to me and helps me to keep going," she tells Newsbeat.
"I don't think I would be where I am today, so well healed and getting over my eating disorder so well, if it wasn't for her.
I've had an eating disorder for almost 10yrs and Demi telling me I'm not alone as well as listening to her music has encouraged me to get help and I'm now 100% better than my lowest point. Thank you @ddlovato.❤#HowDemiHasHelpedMe

— Laura (@narryftashton19) July 25, 2018
Laura also explains how important it is for celebrities like Demi to be so open about their mental health.
"Someone with such a positive platform that has been through it and has the platform to speak on it is good for the world to hear.
"Yes teenagers and young people are starting to open up about their mental health issues, but I think it's still an issue.
"She's helped me a lot with how she's advocated for mental heath."
Allie, 16, created a Twitter fan account dedicated to Demi after she helped her through "dark times".
She says hearing about Demi's relapse "really saddened" her.
i was going through a rough phase at one point of my life and being a huge fan of demi back then, her songs def helped me through those times and i just want her to feel as better as she made me 🌻 #HowDemiHasHelpedMe

— allie (@chemistried) July 25, 2018
"To me she is an inspiring woman filled with strength and talent and she gives meaning to the words 'staying strong'.
"She helped me get better with my issues and with all my might I hope that she'll get better too."