Are defenders football's least appreciated players?
By Christian Hewgill
Newsbeat reporter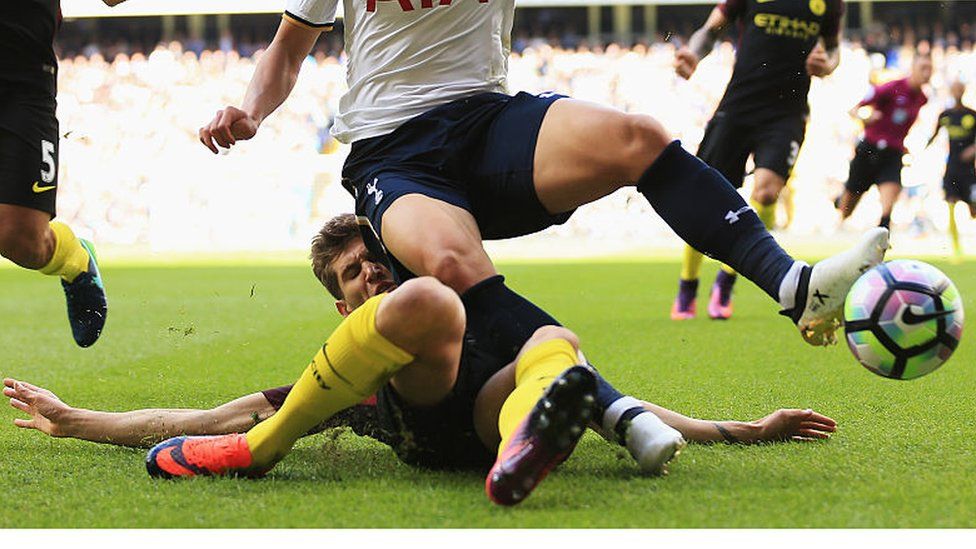 Fifa has released its 10 man shortlist for the Best Men's Player of 2018.
But it's a lonely list to be on if you're there to stop the goals rather than score them.
It features five strikers, four midfielders and just one defender - Raphael Varane of Real Madrid.
And with not a single goalkeeper on the list either, do we totally under appreciate our humble clean sheet seekers?
'The celebrity nature of football'
It's not just the Fifa best player award that's guilty of defender disrespect.
Largely considered to be the most prestigious prize in football, the Ballon d'Or hasn't been won by a defender for 12 years.
And a goalkeeper has only won the award once in its 62 year history - way back in 1963.
"The idea that a goalkeeper over the last 50-odd years has never been the best player in the world is ridiculous," football writer Jonathan Wilson told Newsbeat.
Jonathan wrote the award winning book Inverting the Pyramid: The History of Football Tactics.
"A part of the celebrity nature of football is that the focus is on forwards, the people who you see doing tricks and scoring goals.
"It's just much easier to give it to the guy who you can watch on YouTube doing nutmegs and flicking the ball over defender's heads."
'No chance to show how good you are'
Jonathan thinks that defenders know they simply haven't got a chance of winning football's major individual prizes, because spending games going unnoticed is part of the job.
"To win one of these awards you have to be playing for the best clubs.
"If you're a defender in one of those teams, half of the games in a season you don't have anything to do, so there's no chance to show how good you are."
Often the success of defenders is measured by statistics like the number of tackles won.
Being credited with loads of tackles can look impressive at first, but Jonathan believes it can be misleading.
"A lot of defending you don't actually see.
"A great defender, just by being in the right position stops the ball coming anywhere near him.
"Some players make more tackles per game, but the reason he's making so many tackles is because he keeps getting out of position."
Jonathan isn't a fan of giving players individual awards, instead preferring those which reward team performances.
But nevertheless, he believes those judging player awards should be paying closer attention to the contributions of defenders and goalkeepers.
'Less of a place for hard men'
Harry Maguire's excellent performances for England in their recent World Cup campaign means he's probably the country's most high-profile defender at the moment.
When Leicester City and England team-mate Jamie Vardy wasn't taking the mickey out of it, Maguire put his 'slab head' to good use in Russia.
He not only used it to score a vital goal against Sweden in the quarter-final, but was a good, old-fashioned defensive rock for England throughout the tournament.
But the man who signed Maguire for Sheffield United's youth academy at just 16, Ron Reid, says the lack of defenders winning awards is contributing to fewer young players aspiring to be ball-winning defenders.
"When they start they all want to be the player that runs with the ball, or scores the goals," Ron tells Newsbeat.
He thinks the role of the defender has changed dramatically over the last couple of decades.
"Those that run the game want free-flowing goal scoring.
"There's less of a place in modern football for old fashioned 'hard man' defenders.
"Perhaps Harry is one of the few defensive role models out there now."