Titans: Anna Diop faces racist backlash from comic book fans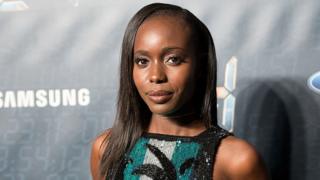 An actress who's due to star in new TV show Titans has disabled her Instagram comments after facing racist backlash from comic book fans.
Anna Diop will play an orange alien princess named Koriand'r/Starfire in the upcoming series from DC Universe.
But some people say Anna shouldn't be playing Starfire because she's black.
Backlash started after a set photo leaked in April, and was reignited when the latest trailer for the show was recently released.
In a now-deleted Instagram post, Anna addressed the hate she received online at the time and described the picture as a "misrepresentation of the incredible character I get to play".
"Racist, derogatory, and/or cruel comments have nothing to do with the person on the receiving end of that abuse. And because I know this - I'm unfazed."
Paul Feig, who directed the latest Ghostbusters, defended the Senegalese actress on Twitter.
His all-female reboot of the original 1984 Ghostbusters film made headlines in 2016 for having the most disliked trailer in YouTube history.
Much of the criticism of the film was regarded as sexist, while one of the stars, Leslie Jones, faced "sick" racist abuse online.
"Comic book fan community: You have to loudly denounce these racist trolls who make these attacks," Paul wrote.
"The fan community cannot allow itself to get painted with this brush when it's such a small number of hateful people doing this."
Anna now has just six posts left on her Instagram and has disabled comments on five of them.
The only post where comments are allowed is on a promotional movie image for Jordan Peele's Us, which she'll also star in.
People have tweeted their criticism of those who consider Anna too dark-skinned to play Starfire, describing it as "anti-black".
Others have shared their excitement about the casting.
Follow Newsbeat on Instagram, Facebook and Twitter.
Listen to Newsbeat live at 12:45 and 17:45 every weekday on BBC Radio 1 and 1Xtra - if you miss us you can listen back here.