Dre Skull: Popcaan's producer on making dancehall emotional
By Hannah Moore
Newsbeat reporter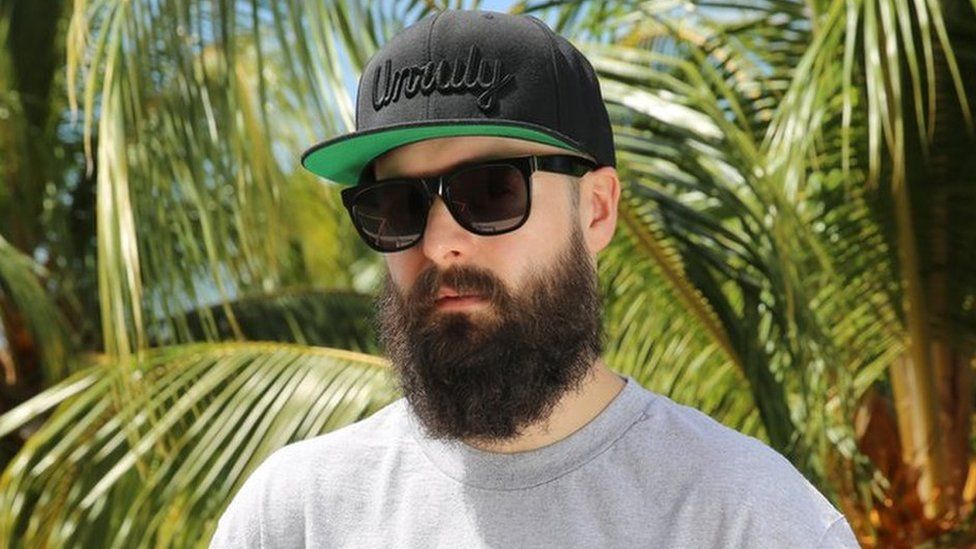 Dancehall is often seen as chaotic - its rumbling basslines and clashing airhorns are part of the appeal.
But it's Dre Skull's stripped-back production that's bringing out the emotional depths of the genre - and of artists like Popcaan and Vybz Kartel.
"I'm not scared to rip a track apart and start again," he tells Newsbeat on the phone from his base in Brooklyn, New York.
It's perhaps strange that a white man from Cleveland, Ohio, has become one of the most sought-after names in dancehall. He is aware of that.
"One of the most amazing things about Jamaican music is that it's coming from a small country, but it's gone everywhere in the world.
"I think my first love was the productions of Lee 'Scratch' Perry, and later when I heard songs by Shaggy and Beenie Man on radio stations in New York I became a real fan."
The Mixpak Records founder is busy. Wizkid, Beenie Man, and Protoje are among the artists who have come calling recently.
He's just dropped a surprise 10-track EP with Santigold, and is celebrating Lily Allen's Mercury Music Prize nomination for No Shame, an album he helped produce.
But it's the producer's partnership with Popcaan, on his long-awaited second album Forever, that we're really on the line with him to discuss.
On the track Firm and Strong, a meditation on betrayal, paranoia and religious faith, Dre uses sparse beats to isolate what he calls the "pain and power" in the deejay's voice.
"The original instrumental for that track was completely different," he explains.
"But Popcaan wrote something much more powerful than I could have imagined. As a producer I had to respond to that."
The dub-influenced song, featuring backing from a 20-strong choir, must be among the most distinctive dancehall of this year.
Dre, real name Andrew Hershey, explains that it came to Popcaan in a dream.
"We were in the studio at his house in Kingston. He put on the instrumental for that song and said 'Keep it on repeat' - and then at about 3am he went to sleep with it playing very loudly.
"After about three hours he got up and immediately went in the booth and recorded the whole song. It was a kind of spiritual connection that he received."
That unconventional way of working seems to suit Dre.
He tells me he worked in performance art before getting into music. And he declines to reveal his age.
"Let's keep that off the internet," he laughs.
Dre's "lucky break", as he puts it, came when he sent an instrumental to Vybz Kartel.
The dancehall star was then at the height of his success, after releasing Clarks and Ramping Shop.
He turned Dre's track into the hit Yuh Luv, and invited him to Jamaica to make the 2011 album Kingston Story.
However, Kartel then received a life sentence for murder in 2014 - although music tracks continue to be released in his name on an almost weekly basis.
There's debate over whether those tracks are being recorded inside prison, or if they come from an extensive back catalogue of unreleased music.
"The speed he works at is unreal. With Kingston Story he was recording about four songs any night we were in the studio, taking less than two hours per song.
"I'd play the riddim, and he'd open the microphone and start laying down lyrics from the first time he heard it. He doesn't write anything down.
"It's the same with Popcaan - he has ideas in his head and it all comes through in the recording process."
The pair met through Kartel, who was then Popcaan's mentor, and have gone on to make two albums together, starting work on Forever back in 2015.
"Popcaan was taking this album very seriously, and that's why it took time to shake out what it was going to represent."
It's been four years since Popcaan's first album Where We Come From, and in the fast-release culture of dancehall it is particularly unusual to take so long over a project.
But Dre thinks that's part of the reason Popcaan is having greater international recognition than many of his peers - as well as collaborating with artists as wide-ranging as Gorillaz, Jamie XX and Davido.
"As much as people say 'albums are dead', it's unlikely an artist's career will get further without one, and a lot of dancehall artists aren't getting the recognition they deserve because they don't make them [albums].
"More than that, an album can be an amazing way to mark a moment in an artist's career, allowing them to say things they can't in singles. That's what I'm trying to help them do."