Chrissy Teigen shows 'mom bod' and says she's 'super insecure'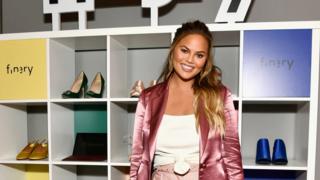 Chrissy Teigen says she is "super insecure" after sharing a video of her post-pregnancy body with fans.
The model gave birth to her second child Miles Theodore with husband John Legend in May.
The couple also have a daughter, Luna, who is two.
Chrissy's fans have thanked her for the video, which showed a close-up of her stomach as she said: "I guess these just aren't going to go away. This is my new body".
The video is captioned: "Mom bod alert!"
She then shared a picture of herself topless, covering her chest with her arm and kissing her husband.
In a series of tweets following the video, she said: "Instagram is crazy.
"I think it's awesome people have killer bodies and are proud to show them off (I really do!!) but I know how hard it can be to forget what (for lack of a better word) regular ol' bodies look like when everyone looks bonkers amazing.
"Also I don't really call this 'body confidence' because I'm not quite there yet. I'm still super insecure. I'm just happy that I can make anyone else out there feel better about themselves!"
Molly, a mum to two girls aged eight and three, told Newsbeat: "The fact that Chrissy Teigen, who is an A-list supermodel, still has these body image issues... it's quite reassuring!"
She spoke to us while on holiday in France - wearing her bikini - saying it's important that someone like Chrissy publicly talks about a subject that affects a lot of mums.
"It's fantastic she's been so honest about it and she's actually showing her body - without putting a filter on it, without Photoshopping it.
"She's showing what a body looks like after you've had a baby."
Molly, who's 34, says she felt "anxious" about her body after giving birth to both of her daughters.
"Pregnant bodies are often celebrated... It's quite easy to love your body when you're pregnant and the baby's there.
"But after you've actually had the baby you're faced with this body that looks totally different from how it did before.
"Your belly's almost like a deflated carrier bag... and it hasn't just snapped back into shape."
Online, others were also quick to respond to Chrissy's post and support her.
One said: "It's been a year since I had my baby and I am so much heavier than I was pre-pregnancy. And IG always has these 'snap back' or 'post baby' body that sometimes gets me so insecure wondering why I cant be that size yet."
Another one, wrote: "Thank you for talking about this and being honest. It matters."
"I am LIVING for you displaying your postpartum body," another user commented.
"A lot of celebs like to hide&come back looking better than b4 kids. Yay for them, but it's hard for regular moms not to feel like we are broken. It's probably not easy to display flaws society says are unattractive but TY."
Last year, Chrissy opened up about her insecurities and admitted she'd cried because of how she looked.
She's also spoken previously about having postnatal depression following the birth of baby Luna in 2016.
Follow Newsbeat on Instagram, Facebook and Twitter.
Listen to Newsbeat live at 12:45 and 17:45 every weekday on BBC Radio 1 and 1Xtra - if you miss us you can listen back here.