Katy Perry visits sick fan who missed concert because of brain surgery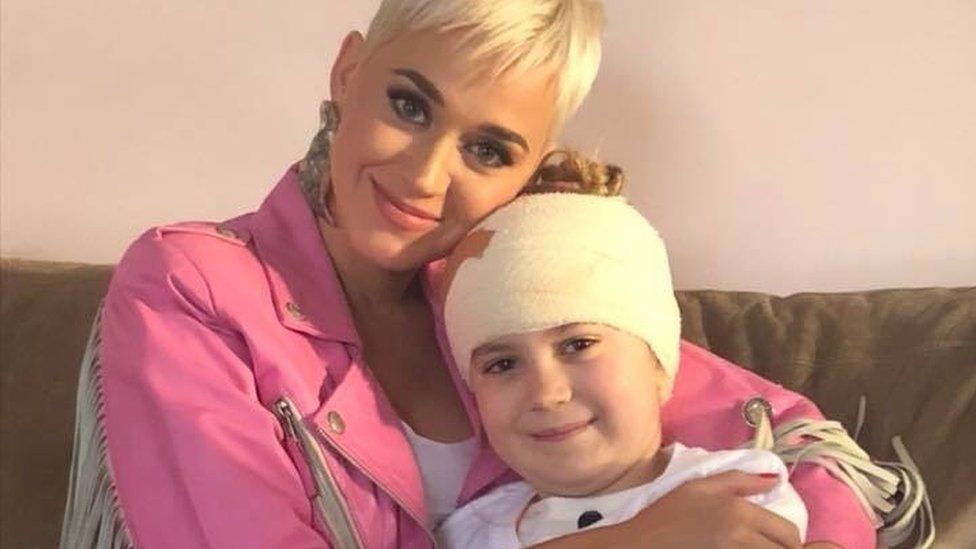 Katy Perry paid a visit to a sick fan in Australia after she had to miss the star's concert on Monday.
Eight-year-old Grace Moores had brain surgery last week after being told she had a 6cm tumour.
Her sister Tiana, 16, tweeted that Grace had been looking forward to the concert before she was diagnosed in April.
Katy's team got in touch with Tiana and went round on Tuesday before her concert in Adelaide that night.
RETWEET PLEASE! my baby sister is meant to attend @katyperry concert in Adelaide this year but was diagnosed with a 6cm Brain tumour and has been battling all year, grace has love been Katy's biggest fan since she was 3, please help us try and get in contact with @katyperry xx pic.twitter.com/5C9Xuccmu4

— Tiana is trash (@tianamoores_) July 25, 2018
Katy has since posted video of their meeting, with the caption "The Power Of The Internet".
The singer starts the clip by saying: "Today is one of those days where I actually feel like a unicorn. That's because I get to use my powers for good."
Tiana says that Grace has been Katy's biggest fan since she was three, and loves her songs because of their positive message.
"Grace loves Katy as a person and she says her songs make her feel strong and empowered."
She started the hashtag #HelpGraceMeetKatyPerry to try to catch the attention of the American singer online.
Her original tweet had more than 20,000 retweets.
And then, on Monday, Katy's people got in touch.
Tiana told Newsbeat that the family kept it a secret from Grace.
"Katy came to the house in her big cars and it was really incredible, Grace was so shocked.
"She was just in awe the whole time and just speechless."
Tiana shared clips on Snapchat of Katy hanging out with the family.
The 16-year-old said Katy even introduced herself.
"She said 'Hi' to everyone and she was just instantly trying to hang out with Grace, and asked Grace to show her around the house."
Katy asked Grace to name her three favourite songs, and then performed an acoustic set for her with two guitarists.
"She sang Roar, which is Grace's all-time favourite, and Firework and Chained to the Rhythm."
And while she was there Katy also took one of the greatest snaps of all time.
Katy shared a clip of her with the family to her 71 million Instagram followers.
She called Grace her "new merch model" and showed the eight-year-old with a signed tour shirt.