Brighton Pride: This bus for gay professional footballers is empty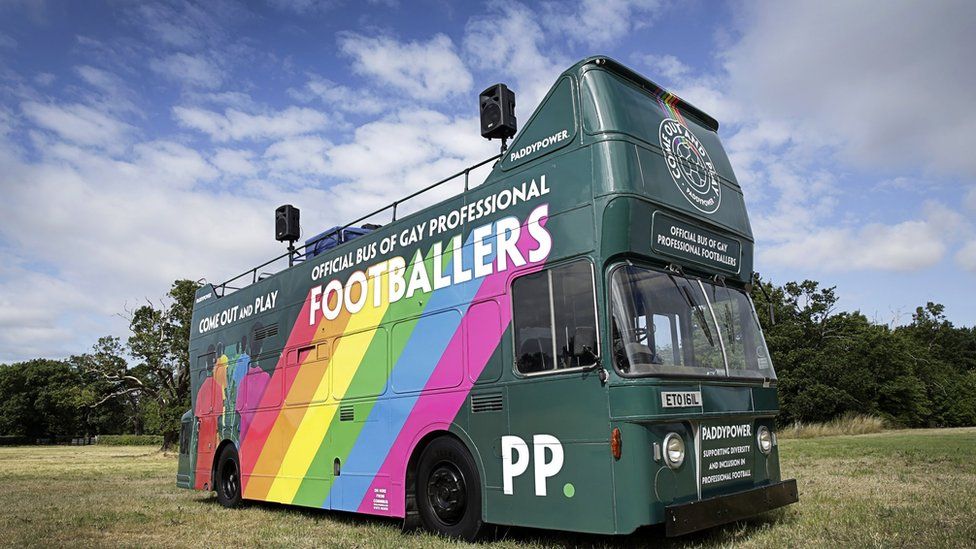 A double-decker bus for all of the UK's gay professional footballers is heading to Brighton Pride this weekend.
The only problem? It's empty.
Paddy Power is behind the "official bus of gay professional footballers" and says it wants to make any player who is ready to come out, feel accepted.
But the Gay Football Supporters Network says it will put pressure on footballers who are worried about coming out.
'A spearhead for a cultural change'
Hundreds of footballers play in the Premier League, but not one is openly gay and Paddy Power says its "official" bus is all about encouraging clubs to be more welcoming towards LGBT people.
"Football is our bread and butter in this country. We live and breathe it. It's the elephant in the room and it's just becoming too big to ignore now," Lee Price from Paddy Power told Newsbeat.
"No one seems to be talking about it. We believe the UK and beyond is ready for a player to come out and hope that by having the conversation it will let them know that if they do come out, it could be a spearhead for a cultural change."
Paddy Power has a history of LGBT activism.
The company has been a supporter of the Rainbow Laces campaign and recently donated £170,000 to LGBT sport charities.
It also promised to donate £10,000 for every goal Russia scored at the World Cup.
Ed Connell, chair of the Gay Football Supporters Network, said the company deserves credit for that campaign but thinks the bus is nothing more than a stunt designed to grab headlines.
"Everyone knows there's no openly gay Premier League player," Ed told Newsbeat.
"But the reason for that is because we obviously haven't created the right environment. They're not comfortable enough."
Bus could 'add more pressure'
Ed believes the bus will put pressure on players who might be deciding whether or not to openly declare their sexuality.
"Coming out is one of the most difficult things we have to do in our lives. There's really no need to add any more pressure.
"This shows Paddy Power don't appear to be genuinely interested in the problem. They're more interested in grabbing a headline."
There has been praise for the idea too.
Charlton Invicta are an LGBT friendly football team. Their captain Daniel Crump, 30, thinks having a company the size of Paddy Power willing to shout about LGBT rights is helpful.
"It shows support for LGBT footballers who might want to come out," he told Newsbeat.
Daniel thinks the more support around gay football players, the more likely someone is to come out publicly.
"They would be a role model", he adds. "If people who are struggling see somebody in the media, or a famous person, or a sportsmen come out, they'd think; 'If you can do it then why can't I?'
"Many young people feel they can't come out because of family reaction or the fact that people still get beaten up for their sexuality.
"It would be a massive statement for people who look up to the big football players, if one were to come out."
Paddy Power denied putting extra pressure on gay footballers.
"The target of this stunt isn't an individual player: It's the Premier League and the wider community around it," said Lee Price.
"This is a rallying cry. It's supportive not attacking. The message is: When you're ready, we're ready. "