X Factor: Cher Lloyd and Ben Haenow on the show's future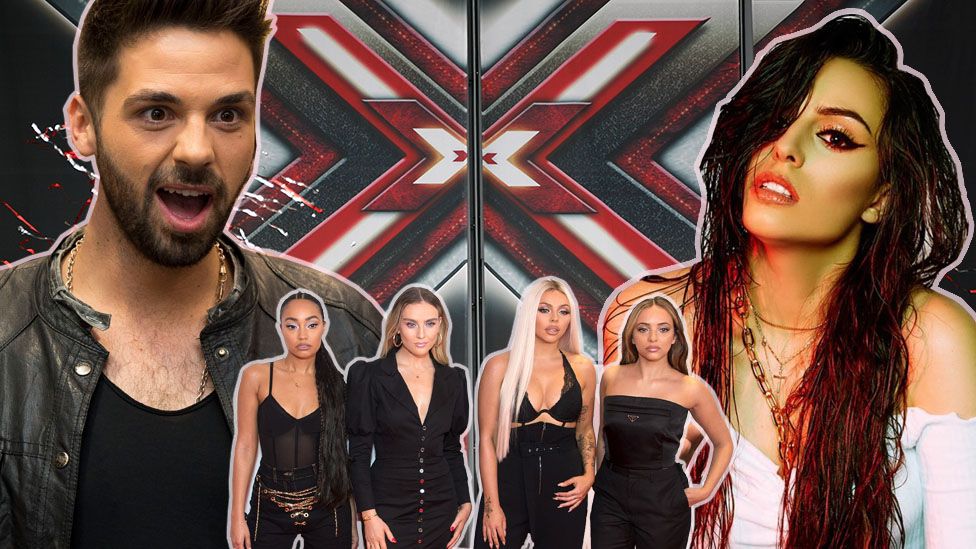 Little Mix, One Direction and James Arthur have all managed to maintain the rare thing X Factor contestants dream of - global success.
But critics claim the show isn't what it was.
Last year's final had an average of 5.76 million viewers, a far cry from the 15.1 million who watched Matt Cardle win in 2010.
It wasn't quite as high for Ben Haenow, whose win four years ago brought in a respectable 9.9 million.
"It's run its course," he tells Radio 1 Newsbeat. "Audiences for most TV shows have fallen but it now regularly seems to be losing viewers.
"I don't know what they can do to pull people back into it but the format needs to change."
There are many reports that suggest regular TV viewing is down overall with all broadcasters losing audiences to streaming services like Netflix and Amazon Prime and X Factor says it is still attracting a lot of people this year "averaging approximately seven million viewers across all platforms and transmissions".
'The main problem was the aftercare with that show'
Since winning in 2014 Ben has a number one single, two albums, and a duet with Kelly Clarkson under his belt.
He doesn't think he'd audition for the show now but admits that's "hypocritical" and it has "opened doors to release music".
"The main problem was the aftercare with that show," he explains. "They leave it far too late [to release music]. In real life if an artist releases a single you don't expect to be waiting a year for the next one. They stifle artists in that way."
Last year's winners Rak-Su have only recently released new music - their latest single only just managed to scrape into the Top 40 last month at 39.
In a statement, X Factor tells Newsbeat: "The duty of care to our contestants and those auditioning for the show is of the utmost importance to us.
"We take the welfare of our contestants very seriously and have measures in place to ensure they are supported at every stage of the process."
Remember when Beyonce showed up?
The status of the stars X Factor has attracted for its final has also declined over the years.
In 2017, when Rak Su took the crown, Paloma Faith and Wyclef Jean were among the guests who performed with the finalists.
That's not bad at all, but compare them to when Beyonce showed up in 2008 to sing Listen with Alexandra Burke.
'X Factor needs to be rested'
"Nobody is talking about it now," claims TV critic Emma Bullimore.
"At this year's opening launch Simon was saying 'This is my chance to save it'. He's spent lots of money on it and it hasn't really worked.
"It needs to be rested. Dancing on Ice went off-air for a little bit and came back and did really well. That needs to happen because four million viewers is really poor for what used to be a giant for Saturday night TV."
Viewers have also been comparing this year's series to its past glories on social media.
I only watch @TheXFactor now for a little bit of background noise but now it's very embarrassing and terrible. Awful judges, poor acts, poor host and the format and layout of the programme is rubbish now! Zero interest in this since 2015.

— WHBrigzy (@WHBrigzy) October 28, 2018
But, with four million viewers, there are of course plenty of people who love this year's show.
Missed @TheXFactor last night because of the boxing.. just caught up and my god I'm an emotional wreck 😭 I Literally love this year's judges too. My fav year yet ❤

— Ellie morgan (@DITZYXOO) September 23, 2018
X Factor says: "It has been the most-watched programme of the day for 16-34-year-olds the majority of the nights it has been on air so far this series."
Its 15th series has three new judges alongside Cowell: Robbie Williams, Ayda Field, and one of the show's biggest exports - One Direction's Louis Tomlinson.
He was on the same year as Cher Lloyd - the most-watched series - which Cher says "felt like a buzz" to be involved with, smiling that it "was the best one".
She believes Twitter, which eight years ago was in its infancy, had a huge impact in raising the profile of herself and One Direction.
Cher says coming from X Factor has, at points, made it harder for her in the industry: "At times it can be tough because you watch so many people whizz by you".