Georgia Hall and Jamie Chadwick: Two winners blazing a trail for women's sport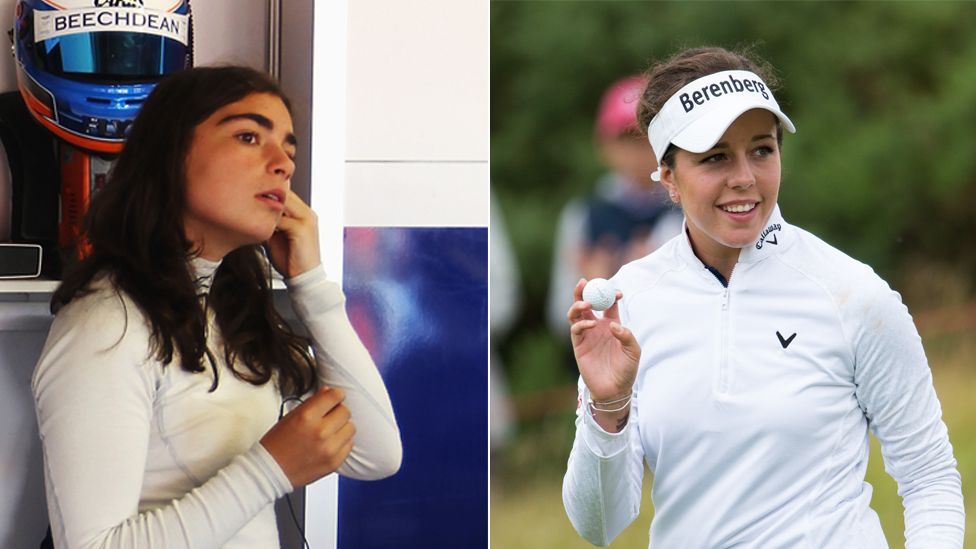 Two young women - two moments of British sporting history.
Georgia Hall lifted the trophy for golf's Women's British Open and Jamie Chadwick became the first woman ever to win a British Formula 3 race.
Both in their 20s, they've triumphed in male-dominated sports.
In the same weekend Ireland's women's hockey team defied the odds to finish second in the sport's World Cup.
She told Newsbeat: "I've put hours and hours and hours and years in for that one moment was incredibly special and it's all worth it in the end."
"It does take a lot of hard work but the feeling you get is just incredible, it's like no other."
Her first tournament win could lead to more sponsorship opportunities.
"I had to miss roughly three majors because I couldn't afford to get there, which was frustrating as I'd qualified.
"As an amateur it was hard but I knew if I played well that could get me to these places."
Jamie's win was different because she was racing against men.
She finished in behind Singapore's Pavan Ravishankar in the race but the 20-year-old secured the win because he got a 10 second penalty.
She's no stranger to breaking records because, aged 17, she became both the first woman and the youngest person to win the British GT Championship.
Jamie was quoted post-win as saying her win was "nothing to do with gender" - though she told Newsbeat she was taken out of context.
"I guess for me it's just important to show that it is possible and I know if I'm having a bad day it's not because of my gender, it's nothing to do with that.
"And I know if I'm on the money, and I'm having a good day, I'm perfectly capable of being up there and competing with the boys.
"I just want to show that's possible."
"For me, it's all I know, and it's something that hopefully can inspire more women to get involved with because there really are no barriers that should stop us."
It was a big weekend for women's sport.
The Irish women's hockey team played in the World Cup final in London after entering the tournament as the second-lowest ranking team.
While they lost to the Netherlands, it's been dubbed one of the biggest moments in Irish sporting history.
Kate Dale, campaign lead for This Girl Can and trustee for Women's Sport Trust, says these high-profile successes generates more attention for women's sport.
"It's great to see so many women achieving so much," she said.
"Whether you've got the talent to compete on a world stage or just want to get out there and get active, it shows that sport isn't just for the boys.
"Coverage and sponsorship of women's sport has come a long way but there's an opportunity and business case for broadcasters and sponsors to do a lot more. There's a real appetite for it."