Luigi death: Nintendo kills Mario brother during official broadcast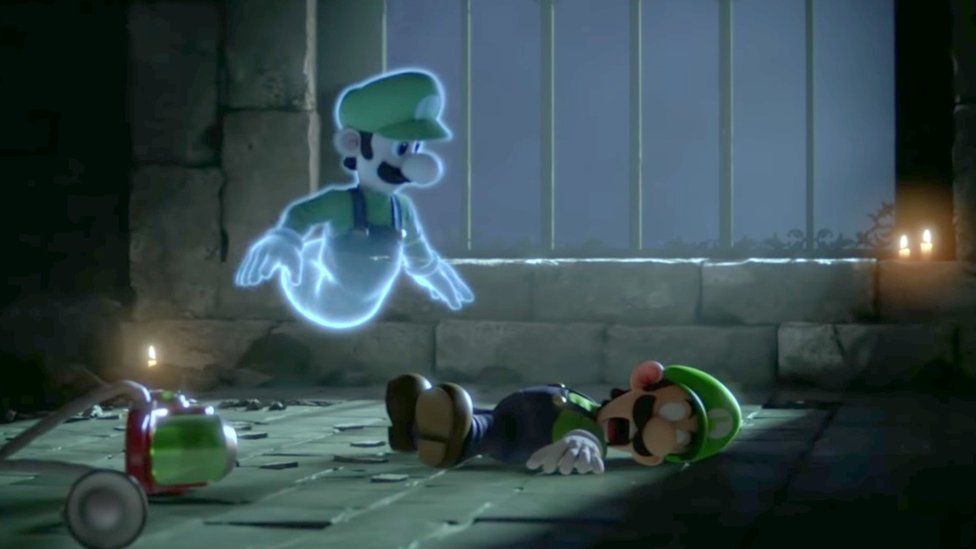 Despite years dodging blue shells and piranha plants, Luigi has finally been claimed by the Grim Reaper.
Fans were shocked after Nintendo broadcast footage of the green Mario brother's soul being ripped from his body.
The iconic character's apparent death occurred during Nintendo Direct, which is basically an online presentation of new trailers.
But as upset fans flooded the internet, Nintendo felt the need to respond.
It was much needed reassurance for many fans of the Mario franchise - which has been around since 1981 and has fans young and old.
During a trailer for fighting game Super Smash Bros Ultimate, viewers had watched Luigi nervously walk into Dracula's castle.
All was well until he came face-to-face with a scythe-wielding Reaper, who caused him to faint in fear.
As he dropped to his knees, the Reaper cut him in two.
The scene was unusually gruesome for Nintendo - the most horrific thing Luigi would ever have seen before his final moment was Bowser's dentistry.
Upset fans were quick to tweet and collectively mourn.
i dont know how long it'll be until i stop mourning the literal actual full death of luigi

— catboots!! @EF (@catteboots) August 8, 2018
Some commented on the graphic nature of his murder.
when Luigi got his soul snatched I felt that

— Squiglypuff (@SquiglyPuff) August 9, 2018
Others had important questions, which included practical matters.
u guys think luigi is an organ donor

— miss ipad (@dddvon) August 8, 2018
For another fan, there were deep existential queries to wrestle with.
When Luigi dies does he become Lou Ouija?

— Mike (@ProgPro) August 9, 2018
While for one user this was one iconic character's death too far.
Can't believe Luigi and Spider-Man died in the same year.

— Zach (@NGameTheCube) August 9, 2018
Nintendo hasn't confirmed how Luigi has managed to walk off an injury like soul severance.
So its tweet telling fans they have nothing to worry about has prompted disbelief from some.
luigi is not okay, we all saw what happened

— artsyRC✍️ (@rceezus) August 8, 2018
And others accused Nintendo of a wider plot to hush the beloved character's passing.
The conspiracy to cover up his death goes all the way to the top.

— K Landale (@K_Landale) August 9, 2018
Still, some good has come from the traumatic footage.
Luigi's status as the less popular Mario brother has been widely believed as fact among fans.
His supposed death has prompted an outpouring of support that he never normally enjoys.
So if you're feeling sad, just remember:
don't cry because luigi is dead. smile because the year of luigi happened

— kerwin (@swampfriend) August 9, 2018