6ix9ine: Rapper faces prison and sex offender registry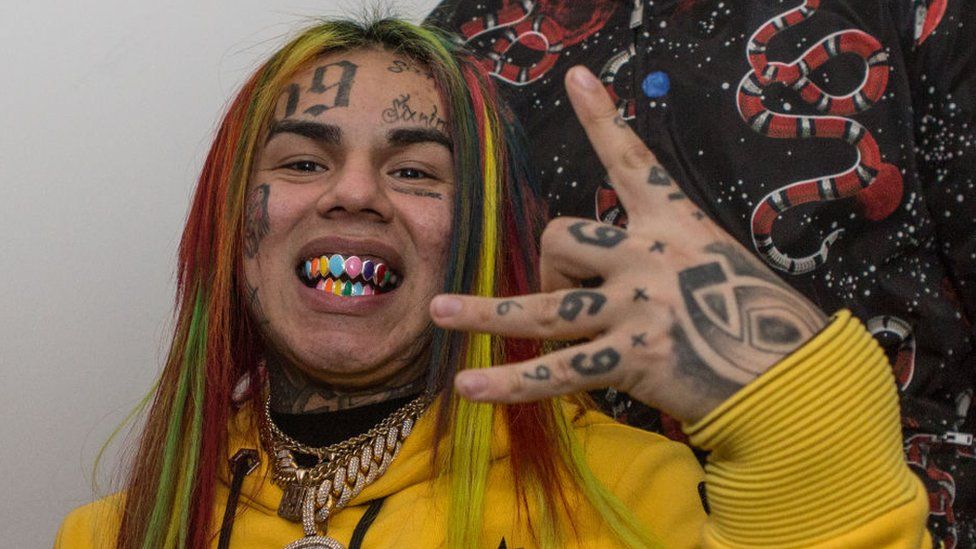 Tekashi 6ix9ine could face prison time for the sexual exploitation of a child, as well as new assault charges.
The Manhattan District Attorney's office claims the rapper violated his 2015 plea deal by re-offending twice.
It's been recommended that the 22-year-old be tried as an adult and sentenced to up to three years in prison.
The office has also asked for him to be registered under the Sexual Offender Registration Act, according to documents seen by Newsbeat.
6ix9ine, real name Daniel Hernandez, originally pleaded guilty in October 2015 to using a child in a sexual performance when he was 18.
In a video, posted online, a 13-year-old girl was seen engaging in oral intercourse while Tekashi stood behind her.
Under the conditions of a plea deal over the original crime he agreed not to commit another offence for two years so that he wouldn't have to register as a sex offender.
However, if he breached that plea deal he was told he could face up to three years in prison.
The hip hop star has since been arrested twice for allegedly choking a 16-year-old in a shopping centre in Houston earlier this year.
In May he was also arrested for driving without a licence, assaulting a police officer and obstructing governmental administration.
Assistant District Attorney Sara Weiss claims he violated the terms by getting arrested on further charges and using social media "to promote a culture of violence and glorify gang activity".
"[These crimes] seriously compromise his prospects for rehabilitation," she wrote in a letter to the judge.
She also stated that the star's behaviour undermines any argument that he should be "relieved" of a criminal record and recommended adult sentencing, even though committing the sexual offence at 18 makes him eligible for "youthful offender treatment".
6ix9ine is known for his unconventional appearance, controversial actions and legal issues.
He rose to fame in 2017 with the release of his debut single Gummo, which peaked at number 12 on the US Billboard Hot 100 chart, and released a song with Nicki Minaj and Murda Beatz last month.
Sentencing for the rapper's case has been adjourned until 2 October.
Newsbeat has contacted 6ix9ine's representatives for comment, but they haven't responded.