Drag World: Where the biggest US stars meet rising UK talent
By Michael Baggs
Newsbeat reporter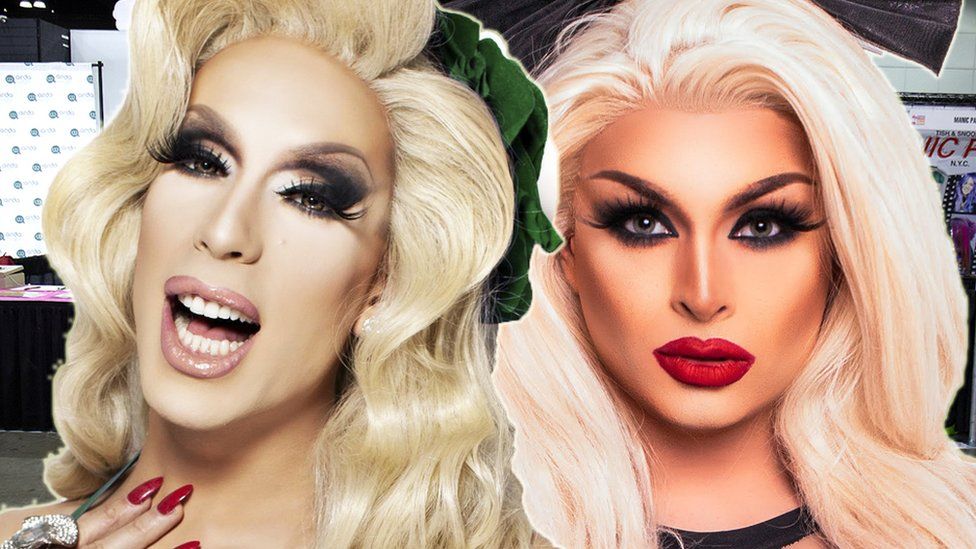 Alaska 5000 is one of the most in-demand drag queens in the world, having performed non-stop since first appearing on RuPaul's Drag Race in 2013.
She secured her A-list status when she snatched the crown after returning to win the reality show's All Stars series three years later.
This weekend, the iconic performer is in the UK to appear at Drag World, which is billed as "Europe's biggest celebration of drag".
It's a massive convention which showcases some of the best talent from the US and rising stars from the UK.
Since her time on Drag Race, Alaska has become one of the world's most in-demand drag performers and has more than 1.4 million followers on Instagram.
"I never would have thought, when I started doing drag, that it would be like this," Alaska tells Newsbeat.
"It defies all logic and it doesn't make any sense."
This year alone Alaska has performed in Brazil, Australia, Mexico, Chile and the UK, performing in clubs and appearing at conventions like Drag World.
"It's always hectic and why not? Why sleep when we can do drag?" she says.
At events like Drag World, fans can meet drag queens at specially designed booths, buy merchandise from their favourite stars and watch performances and panel discussions about drag culture.
The rise in drag culture and the popularity of Drag Race has meant younger queens in the UK like Cheryl Hole, who worked in a restaurant until 2016, have been able to quit their day jobs and take up performing full-time.
"There are some weeks where I perform four nights, some I do six. There will be times where I will do two different shows in one night," Cheryl tells Newsbeat.
"Drag Race shows what we do and that it's a form of entertainment like anything else.
"It has really helped open a lot of people's eyes to what we do as artists."
A decade of RuPaul's TV empire
And (race issues aside) former contestants such as Trixie Mattel, Sasha Velour and Pearl have more than a million followers on Instagram.
The Essex queen at the petrol pump
You can find US performers like Alaska jetting across the globe, but life for British queens like Cheryl can be a little more grounded.
"The biggest expense I have is petrol, getting myself here there and everywhere," says Cheryl.
"I invest all my money back into costumes, hair, making sure everything is new and fresh, keeping everyone excited and on their toes."
But whether it's first class to South America or filling up on the drive back to Essex, drag queens have to keep tabs on the pressures of their packed schedules and making a living performing in character.
"It's extremely demanding," says Alaska.
"I've certainly had to find a balance for myself and I have to now schedule months where I say, 'OK, I'm not going to travel during this month'."
'I'm happy to do the gig, whether it's £50 or £500'
"I need to take a vacation because I'm tired, I'm exhausted, my brain doesn't work anymore, because of the drugs, because of all the gigs, I believe you will understand," Katya told fans at the time.
Cheryl says UK queens rally together to support each other when their schedules take a toll.
"There are points where we do go to our sisters and say, 'Girl, you need to take a chill pill, you need to check it'," she says.
"But when you love what you do, you'll do anything and everything.
"If somebody wants me at a nursing home, I'll be there. I'm honoured that people want me to come and perform so I'm more than happy to do the gig, whether it's £50 or £500."
Events like Drag World are an important part of a queen's touring schedule and allow interactions between the performers and fans who can't attend drag shows in bars and clubs because they are too young.
"It's great to have a convention where it's for all ages so the kids can come out," says Alaska.
"It's wonderful to see a generation of kids who have supportive parents and who just get it. It really is encouraging.
"I do believe the children are the future."