Celebrity Big Brother responds to Stormy Daniels no-show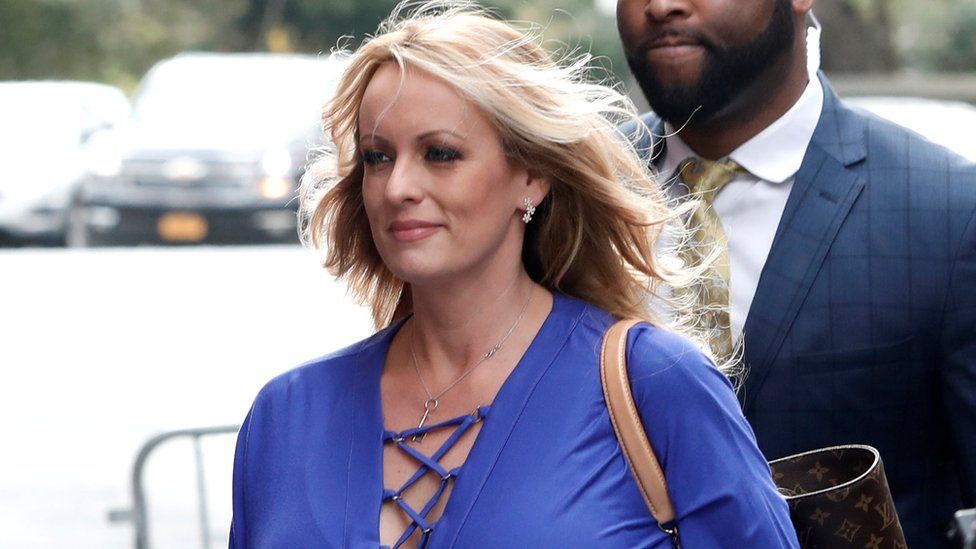 The adult film star was expected to be one of the housemates this series, which started on Thursday night.
But she pulled out at the last minute, and her lawyer said producers "tried to script a result" that she wouldn't go along with.
He added: "They can make up any story they want, but that's what happened."
The adult film star hit the headlines after alleging she had slept with President Donald Trump in 2006, which he denies.
On Friday, presenter Rylan Clark-Neal told viewers: "Five hours before the live show, Stormy informed us that she wished to simply appear on launch night and then leave."
He said that they were unable to work out a compromise with her, but denied the conflict was over how much she was getting paid, and added: "Reports that Big Brother tried to control Stormy to achieve a specific outcome are also completely false."
But in a statement given to Newsbeat, Stormy Daniels' lawyer Michael Avenatti reiterated: "Big Brother tried to control what Stormy was going to say and do on the show."
He added: "When they discovered she was going to do her own thing and be herself, they refused to let her go on."
Stormy Daniels, whose real name is Stephanie Clifford, also cancelled an appearance on Friday's Loose Women because of a "legal situation".
Co-host Jane Moore spoke to her off camera and told viewers: "There was a custody development with her daughter late last night.
"She suddenly thought: 'I can't commit because being a mother comes first.'"
Daniels' daughter is seven, and going into the Celebrity Big Brother could have isolated Daniels from the outside world for weeks.
Big Brother does not tolerate the use of highly offensive, racially charged language in the House. Rodrigo has received a formal and final warning and if he uses such language again, he will be removed immediately. Rodrigo has apologised for his comments. #CBB pic.twitter.com/NX8scGPUkW

— Big Brother UK (@bbuk) August 17, 2018
Meanwhile, contestant Rodrigo Alves has been given a formal warning by the show for using racist language.
The TV personality, who is known as "the human Ken doll" because of the amount of cosmetic surgery he has had, told former Towie star Dan Osborne that he wasn't attracted to him as he was "too white".
Rodrigo Alves used the N-word twice in the conversation. He blamed being excited and drunk for saying the word and said that he regretted using it.
Big Brother said in a statement: "Rodrigo has received a formal and final warning and if such language is used again in the house, he will be removed immediately. Rodrigo has apologised for his comments."