The changing face of Reading and Leeds Festival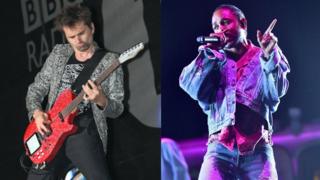 Reading and Leeds are well-known "rock 'n' roll" festivals, but over the years the twin weekenders have changed their musical faces for a more diverse make-up.
Headlining this year's festivities are bands Fall Out Boy, Kings Of Leon and Panic! At The Disco, alongside hip-hop artists such as Kendrick Lamar, Travis Scott and Post Malone.
Pop music is also on the bill with Dua Lipa set to play on the main stage.
When it was released earlier this year the line-up left fans divided, with some calling it the "worst ever".
While other fans were pleased about its diversity.
What do artists think?
Felix White, guitarist and songwriter for now broken-up band The Maccabees has played at Reading and Leeds multiple times.
He finds the "music being better in 90s" conversation "distracting" and "slightly boring".
"With the romanticism of looking at the past or when you're reliving your youth and thinking 'That was better then'. It's a really misleading rhetoric.
"When you start scratching the surface there are so many great records being made," he says.
East London UK rap producer Steel Banglez will be playing at Reading and Leeds on the BBC Radio 1Xtra stage.
He says its "normal" for there to be line-up complaints and that "people are allowed the freedom of their own choice".
However, festivals book artists by their "popularity".
"You can't deny what's popular and what's in the charts," he adds.
The producer also believes that the line-up is a reflection of a new generation "embracing music" and being more "open minded".
"I feel like there's so many different styles and sounds.
"I wouldn't just call it urban, there's songs with guitars, with piano ballads."
Afroswing artist Kojo Funds will also be playing on the 1Xtra stage.
The 23-year-old hopes rock fans at the festival will enjoy his performance as it'll be full of "energy".
"I think they should give different types of genres a chance.
"If there was a rock band at Wireless then people could adapt to that kind of music and like it."
What do people attending think?
Rory, an 18-year-old student from Cardiff, will be returning to Reading for the second year in a row.
He loves all genres of music but is particularly looking forward to hearing hip-hop and pop at the festival.
He argues the festivals "may be losing originality, but I think there's always a time to move on from the way it used to be".
In previous years pop acts have not been well-received at the events, but Rory is looking forward to seeing Dua Lipa perform.
"She's not only been top of the charts in this country, but all around the world.
"For Reading to introduce that to so many people, that's a fantastic thing," he says.
On the opposite end of the spectrum to Rory, a Reading Festival newbie, Faith will be heading to Leeds Festival for the 15th time.
Faith says historically the line-up was fantastic "as it was a heavier side of music" with a lot of "metal, rock and punk".
But she says the changing line-up has allowed her to discover new music.
"For me it's really interesting because it opens me up to music that I might not have otherwise listened to," she says.
As for fans complaining about the festivals drifting away from rock, Faith says: "There's still hard rock there.
"They're probably not going to be headlining the main stage like they used to be, but you know, change is good."
Why are more festivals now extending beyond guitar music?
NME music journalist Andrew Trendell has been attending Reading and Leeds for both work and pleasure religiously since 2005.
He's watched the line-up evolve over the years but says: "It's just a matter of the time's changed, the audience has changed, so the line-up needs to change.
"The way that young people discover music has changed, they listen to a far more diverse range, someone who listens to rock music won't exclusively listen to rock music."
He adds: "If you're going to be running the biggest festivals in the UK when Glastonbury's not on, you need to address that don't you."
The boss of the festivals, Melvin Benn, previously told the BBC that festivals should be "a reflection of what the public are listening to".
"You can't keep drumming up the same acts and expect people to continue to come and see them."
And Reading and Leeds aren't the only festivals diversifying the genres of their line-ups.
Last year a BBC study analysed major UK festivals and discovered that, in the 1990s, 70% of the headliners were rock acts.
By the 2000s this had decreased to 59% and in the 2010s it was down to 33% of headline acts.
The study was carried out by BBC England's data unit and analysed more than 600 separate headline performances across 14 UK festivals.
They were Download, Reading/Leeds, T in the Park, V Festival, Isle of Wight, Bestival, Latitude, Wireless, Rewind, End of the Road, Cornbury, Boardmasters and Lovebox.
You can watch Reading and Leeds live on the BBC here.
Follow Newsbeat on Instagram, Facebook and Twitter.
Listen to Newsbeat live at 12:45 and 17:45 every weekday on BBC Radio 1 and 1Xtra - if you miss us you can listen back here.