VMAs: Camila Cabello tweets her past self after MTV award win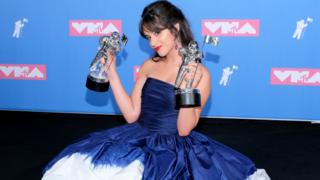 Camila Cabello has replied to one of her own tweets from 2012 in which she said she wanted to be at the MTV VMAs - after winning two awards this year.
The Havana singer wrote to her past self: "You're not gonna believe this [small] Camila but in 2018 Madonna is going to give you an award for video of the year and your acne will clear."
Six years ago, she'd tweeted she wanted to be at the VMAs "so bad".
The 21-year-old won video of the year and artist of the year.
Camila dedicated her award for artist of the year to her fans.
She said: "I'm fully aware that you never know when you're going to get a moment like this again and you never know when it's going to be the last time on this stage but the relationship I have with you guys, with my fans, is a forever thing."
She also took the opportunity to praise the other women that were nominated.
"I wanna say it's incredible, I'm so honoured to be in a category with such incredible nominees, especially the female nominees that are in the category this year, Cardi B, Ariana, Nicki (Minaj)."
It was Madonna who presented Camila with the award for video of the year.
After accepting the award for Havana, the singer got down on her knees to worship Madonna.
She described it as a "surreal moment".
"I wanna thank my family who inspired this music video," she said. "I wanna thank my fans again and honestly, I dedicate this to Madonna."
Despite her success this year, it's not the first time Camila has won something at the VMAs.
In 2014, her former band Fifth Harmony were awarded Artist to Watch for Miss Movin' On.
Camila Cabello left the group in December 2016 and the remaining four members decided to take a break in March 2018 to focus on their solo careers.
Comedian Tiffany Haddish, who was one of the presenters, took the opportunity to take a swipe at the girl group.
Whilst on stage talking about Camila she said: "So those of you watching at home, hi Fifth Harmony."
She then waved to the group down the camera as they weren't at the awards.
Shortly after, Nicki Minaj came on stage to collect her award for best hip-hop and she didn't appear happy.
"Don't be coming for Fifth Harmony," she told Tiffany.
She hit back at the comedian, jumping to the defence of Normani - another member of the band.
Follow Newsbeat on Instagram, Facebook and Twitter.
Listen to Newsbeat live at 12:45 and 17:45 every weekday on BBC Radio 1 and 1Xtra - if you miss us you can listen back here.