Nicki Minaj: Is the queen of rap's crown fading?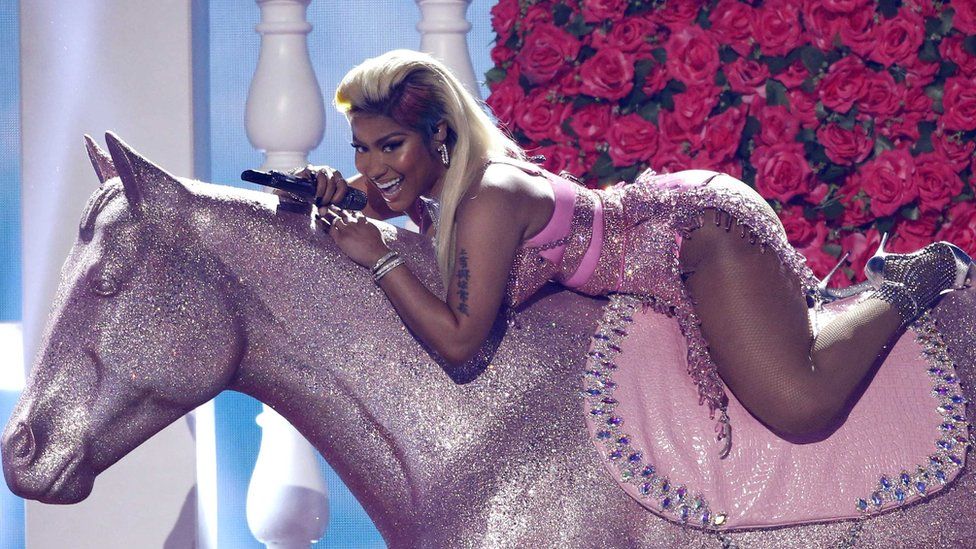 Nicki Minaj and Future have cancelled the entire North American leg of their joint tour.
The rapper has apologised saying she "simply doesn't have the time to rehearse... to give the level of show I need to give".
But there are unconfirmed reports of low ticket sales.
In a video she said she was "working tirelessly to give you the best show of my life. I really apologise but it'll be worth it".
The tour was due to start in September but other legs - including Europe and Australia - will go ahead as advertised and she's rescheduling the US dates for May 2019, but with no specifics.
It caps an eventful couple of weeks for Nicki, in which her album release campaign was fuelled by various head-to-heads and controversy.
Is the queen of rap's crown fading?
Nicki v Travis Scott & Stormi
Nicki's fourth studio album, Queen, failed to top the US Billboard 200 on its week of release - despite strong sales.
So while definitely not a flop, it was beaten by Travis Scott's Astroworld, which was already in its second week of release.
For all the hype, the delays, the promo and the buzz about Queen, it was likely Nicki was expecting a number one album.
As a result, she claimed that Travis Scott and girlfriend Kylie Jenner were using their baby Stormi to help promote Astroworld (more on that below).
She also criticised Travis' marketing tactics, which involved selling "bundles" to fans including merchandise and discounts on live shows.
I put my blood sweat & tears in writing a dope album only for Travis Scott to have Kylie Jenner post a tour pass telling ppl to come see her & Stormi. lol. Im actually laughing. #Queen broke the record of being number 1 in 86 countries. Thank Jesus & thank you to my fans.

— QUEEN (@NICKIMINAJ) August 19, 2018
Travis sold over 50K of these. With no requirement of redeeming the album! With no dates for a tour, etc. I spoke to him. He knows he doesn't have the #1 album this week. I love my fans for the #1 album in AMERICA! I'll explain on #QueenRadio 4 albums in, #1 in 86 countries ♥️ pic.twitter.com/CiYEuczgm3

— QUEEN (@NICKIMINAJ) August 19, 2018
Following her tweets, the rapper repeated her criticism on her Apple Beats radio show - although using far more colourful language.
She went on to talk about the Kardashian-Jenner clan saying: "I love Kylie, I love Kim. I actually love all of them.
"I know that you guys are saying me and baby Stormi have beef. Yes we do."
So it's official Nicki Minaj has beef with Stormi.... History has been made beefing with a baby is next level!! 🤣🤣🤣

— The Old Man (@oldmanebro) August 21, 2018
We don't know if Nicki holds Stormi personally responsible for her failure to get to number one. No response from Stormi so far.
Nicki Minaj, Kylie Jenner and Travis Scott all went to this year's MTV Video Music Awards too. They were apparently due to sit near each other, until Kylie and Travis swapped seats.
She also directed criticism at Spotify, alleging they didn't promote her new material as much as she had expected or wanted.
She claimed the streaming service was "teaching her a lesson" for playing her music 10 minutes prior to its release on (Apple Music's) Queen Radio.
The streaming service responded with a statement: "Spotify supported Nicki Minaj with a Times Square billboard, a host of the largest playlists - new music Friday and the new music release shelf.
"Her song Bed actually saw an increase based on the promotions put behind the campaign. The company continues to be big fans of Nicki."
Before the release of Queen, there was the DM apparently sent by Nicki to music journalist - and Nicki Minaj fan - Wanna Thompson.
"It was a bit heartbreaking in a weird way," Wanna told Newsbeat.
"I memorised a lot of Nicki's stuff so it was heartbreaking to see someone you actually like do that to you on a personal level. It was weird."
Newsbeat contacted Nicki Minaj's record label but had no response.
It seems lazy to compare the two, but in the past year Cardi B has definitely put a dent in Nicki Minaj's crown.
Cardi's Bodak Yellow topped the Billboard Hot 100, something Nicki has - so far - never managed to achieve.
That's not to take away from Nicki's immense talent, her musical relevance and her status as a world class artist.
But you could argue that her recent singles have failed to make as big an impact as earlier mega hits like Anaconda and Starships.
Obviously it's brilliant for music fans to have a wider selection of female rappers making it big, but when you've dominated for so long, no-one likes being nudged off their perch.