Catherine Marks on working with Kanye West and The Amazons
By Jimmy Blake
Newsbeat music reporter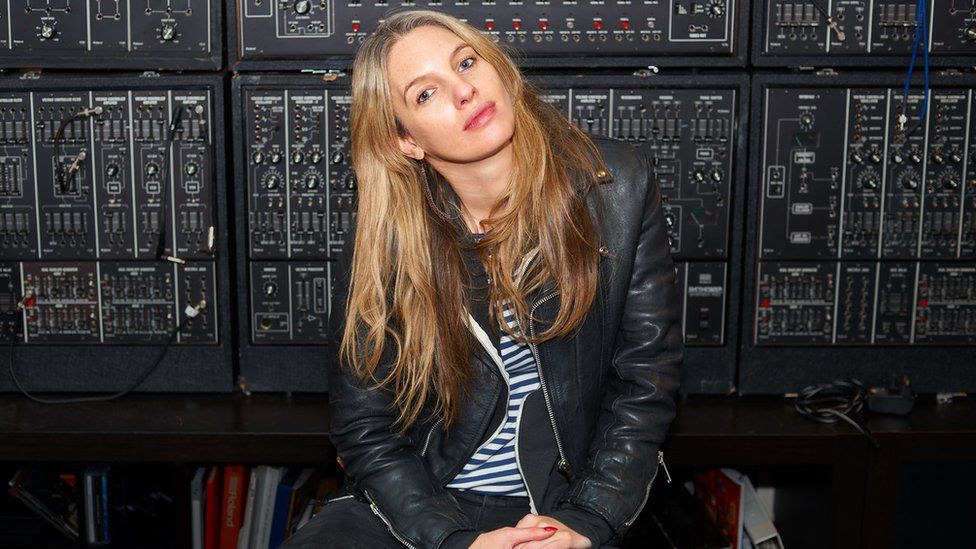 "Oh, did I mention Kanye West?" Catherine Marks asks as she lists some of the huge acts she's worked with.
Foals, Kelly Rowland and Boy George got name-checks, but she'd neglected to mention a 3am producing session with the rapper (more on that later).
Catherine is one of the top female music producers in the UK.
During her career she's played a part in several platinum-selling albums and was nominated for a Grammy for her work on Wolf Alice's Moaning Lisa Smile.
Earlier this year, she added to those achievements by picking up the Producer of the Year Award at the Music Producers Guild Awards (MPG) - becoming the first woman to win the prize.
But it didn't always seem certain Catherine would reach such a level.
"I still can't believe it," she grins.
"I had moments, when I started out, of crying in bathrooms. I felt like I was doing something wrong."
That's up from 25% on last year's shortlist and includes more women than ever before.
Catherine says there were not that many females working in the industry when she started out.
"It could be women perceived it as a too male-dominated world...it could just be that they weren't interested in production, but those feelings have changed and it's important to recognise that.
"I maybe felt as I woman I needed to work harder but nobody ever told me to - I know a lot of other women who feel the same.
"We should encourage women to be involved and we should focus on the girls who are currently working and kicking ass because there are a lot of us now.
"It is changing and we need to take notice of that."
Catherine says she always wanted to be involved in music but didn't know exactly what direction to take when she was younger.
At the age of 25 she moved to London from Australia and started out as the "assistant of the assistant" to Grammy-winning producer Flood (aka Mark Ellis) who has worked with the likes of U2, The Killers and PJ Harvey.
"I asked Flood how long it was going to take me to 'make it' - he said 'At least a decade'," she explains.
"For me the tea-making route felt like the easiest one but there's so many courses and avenues in music. We're all just a bunch of nerds."
That first job taught her "the fundamentals" of production and led her to work outside of Flood's studio with The Futureheads.
From there, Catherine starting working all over the world - picking up a mix of experience and strong anecdotes.
Yes, here comes the Kanye story to prove it.
"He came in one night and we'd been waiting from 11am - he rocked up at three the following morning," Catherine says.
"We wanted him on a particular song, he sang on a different one... he was making up rhymes on the spot and saying things like 'The one three takes ago was good'.
"At the end he asked what I thought. I go 'Well, would you be interested in doing it again?' and he said 'No'.
"So I told him 'In that case it's amazing'.
"Then I'm pretty sure he said 'No, you're amazing'. No-one else in the room says they heard him say that.
"When you're with someone like that if you're not working quick, you're going to get fired."
Catherine's career has led to her overseeing the debut albums of some of the UK's most exciting bands including The Amazons and The Big Moon.
The Amazons' self-titled record went straight into the UK top 10, while The Big Moon picked up a Mercury Prize nomination for Love in the 4th Dimension.
"For me success, first and foremost, is that the team around an album love it," says Catherine.
"If there's any doubt in anyone's mind I haven't done my job properly."
Catherine's top tips on becoming a music producer
You can't learn it all in a classroom: "The job is 10% technical, 90% psychology. You need to, at some point, understand all the personalities in a studio"
Produce something people like: "Awards and all the other stuff are a bonus. I guess the ultimate goal is to sell records but make sure you and the band enjoy making it and want to listen to it"
Contact producers: "If you want to get involved, just get in touch with a lot of producers. I know a load of producers looking for assistants"
Be persistent: "You've got to try if you think you should be doing production. There are some people who I didn't click with but other personalities who I did straight away. You shouldn't give up or feel dejected"