Big Bang Theory: America's most-loved and hated TV show
By Gena-mour Barrett
Newsbeat reporter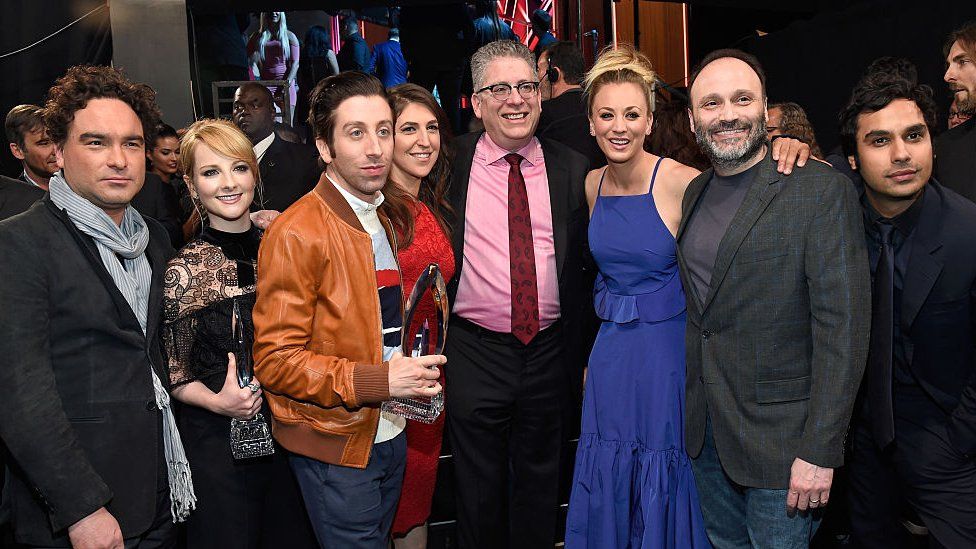 One of the longest-running sitcoms in US TV history is ending after 12 seasons.
The Big Bang Theory, which has had more seasons, more episodes and an even longer run than Friends, will air its final season in May 2019.
The show reportedly averaged more viewers per episode in its 11th season than any other show on US television.
But despite its success as one of America's most popular sitcoms, it's arguably one of its most hated.
Yo the Big Bang theory was/is kinda like the nickelback of sitcoms. None of y'all wanna it admit its objectively good content for its medium. But they're so popular to hate on 🤷🏼‍♂️.

— Alexander Shelnutt (@AlexShelnutt) August 22, 2018
The show the internet loves to hate
When news broke that The Big Bang Theory was coming to an end after a whopping 279 episodes, the response was surprisingly hostile for a show that's been on TV screens for more than a decade.
Some people were clearly devastated, although they admitted to being "in the minority".
Others had very few nice things to say about the show and its longevity.
I'm excited for THE BIG BANG THEORY to end, mostly because it sucks and is bad.

— Kyle Anderson (@FunctionalNerd) August 22, 2018
Despite attracting more than 18 million viewers every year since 2012, The Big Bang Theory has been accused of both racism and sexism, as well as simply not being very funny.
It's also been criticised for reinforcing the "geek" stereotype, which is something 26-year-old Elli says it's "rude" about.
She used to be a fan of the show, but was "put off it quite early on".
"I think it can be really misogynistic and can be quite sexist," she tells Newsbeat.
"I started to realise that a lot of it was just canned laughter at big science-y words and actually if you really listen to what they're saying it turned out to not be very funny at all."
Elli says she "thinks it's for the best" that the show has been cancelled.
"We don't particularly want young people to grow up with that being on the telly and thinking that that's the way they should be living their lives and making jokes."
But 22-year-old Lorna, who describes herself as a "super-fan", says she's "heartbroken" that one of her favourite shows is ending.
"I like it so much because the dynamic they have as a friend group is something that everybody would like to have," she tells Newsbeat.
"I was a big fan of Friends as well and it's quite a similar show dynamic, which I really enjoy."
Lorna first watched the show seven years ago and says she's "been watching the show ever since", which makes it hard to comprehend all the hate it receives.
"I don't understand why people don't like the show," she adds.
"The humour's all science-based and if you don't have that kind of mindset where you find it funny, it's a very particular humour you have to have to get it, so maybe that's why people don't like it so much."
The science behind hate-watching TV shows
"There's quite a lot of psychology behind why we love to hate things," says psychologist Emma Kenny.
She explains that some of the reasons why we tune in to the shows we dislike are elitism (thinking you're better than the characters or writers), nostalgia (relating to the time period when the show is set but hating the environment it's created in) or simply finding the concept laughable, and watching it to prove your point.
Emma also attributes the divisive nature of The Big Bang Theory to "The Marmite Test", where people have "extreme experiences" in the same context.
"I could watch something and love it, and somebody else can equally watch it and hate it," she explains.
This causes just as much reason for loyalty to a show as it does for dismissing it and not watching it.
"If you can get those ingredients where not only can you attract people who love it just as it is, but people who despise it but still watch it - that's an incredible achievement."