Stefflon Don music video forces Mill Hill School apology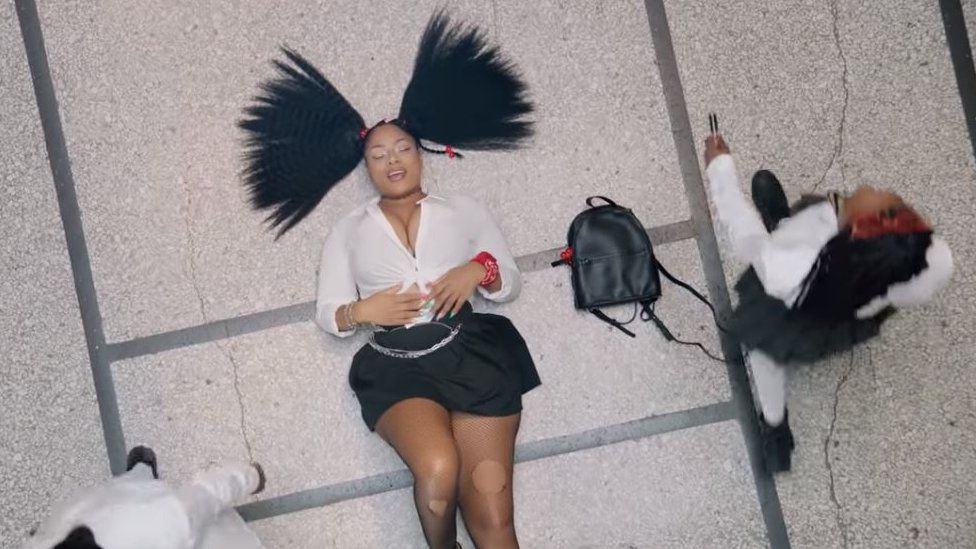 A private school says it's seeking legal advice after getting complaints about a "highly inappropriate" music video filmed on its grounds.
Stefflon Don used Mill Hill School to film the video for her new song Pretty Girl.
One scene depicts the rapper smoking cannabis in her dorm, and she can also be seen swearing at another student.
The school has apologised and says it is "investigating" how the video was allowed to be made.
Mill Hill School is an independent school in North London.
In the video for Pretty Girl, Mobo winner Stefflon Don plays a new girl entering a pretty unwelcoming environment.
After struggling to make friends, the 26-year-old gets into a very sweary argument with another student during a row on the football pitch and appears naked in a shower scene.
Finally she appears to make some friends when she depicts getting high in her dorm room with some other girls.
The video for the song was released on Monday.
Mill Hill School was criticised by the chairman of the Campaign For Real Education for allowing it to be shot on its grounds.
"The message being sent by this video popularises everything which good schools should be against - drug-taking, swearing, and overt sexuality," Chris McGovern said.
"These are all things which schools should be trying to guide pupils away from, not promoting them. Parents who are paying fees for their children to go there will be appalled."
The school says it gives permission for shoots on its grounds so that it can raise money for its "charitable objectives".
In a statement it said: "The head and the governors are investigating how a highly inappropriate film was allowed to be made at the school.
"We include in all hire agreements the requirement that parties should not bring the school into disrepute, and we are seeking legal advice on the matter."
It's not clear whether the school knew about the content of the film before accepting the booking but they say "strict controls are in place" and that in this case "these controls were breached".
The school has also apologised for the offence caused.
Newsbeat has contacted Stefflon Don's representative for comment.