Mike Shinoda: Don't be ashamed if you're hurting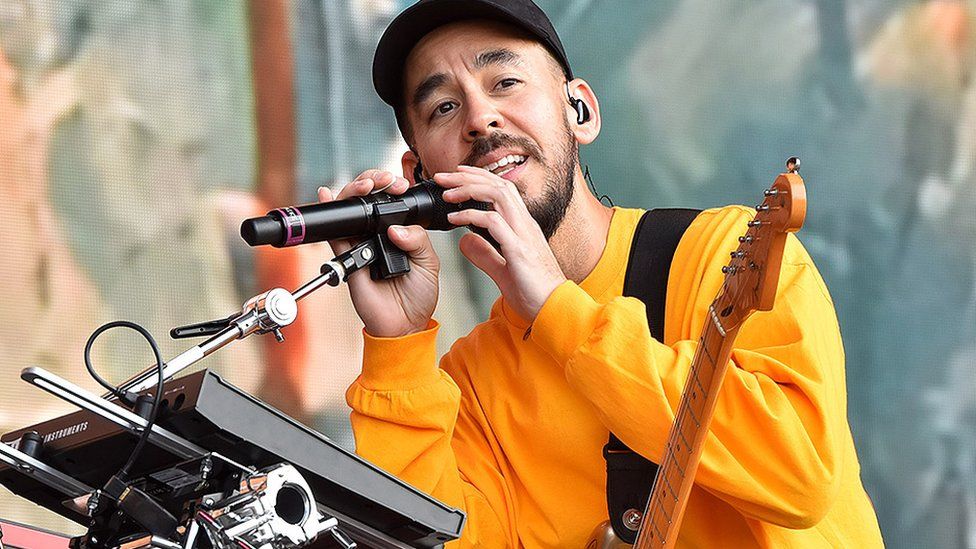 Linkin Park frontman Mike Shinoda urged fans not to feel "ashamed" of their personal struggles during the band's performance at Reading Festival.
He led a sing-along of Linkin Park's 2001 hit In The End in memory of former member Chester Bennington.
Chester ended his life in July 2017 after a struggle with mental health issues.
Mike told the crowd he was "indebted" to the audience for helping him beat anxiety over fronting the band alone.
He asked fans to take a moment to consider those who weren't able to be at the festival due to their own mental health issues.
"I want to come to a show, I want to come to a festival and have a really great time, and there are other people and they're hurting," he said at his first UK performance since Chester's death.
"They've got some stuff going on and I want you guys to know if that's you, then don't be ashamed of that."
Mike said he hoped that people who "loved Chester's singing" would go to Linkin Park gigs and make "some of that bad feeling just go away".
"I want you guys to sing it so loud that Chester can hear you," Mike said before the audience joined in a rendition of one of the band's biggest hits.
Before Chester's death, he spoke to Newsbeat about how a friend's suicide influenced the band's single Heavy, which addressed his mental health problems.
"It was really hard and really confusing and really sad. Sometimes it just feels like life is testing you," he said in early 2017.
Following his death, the band added suicide helpline numbers to their website to support fans dealing with suicidal thoughts.
Chester's wife Talinda set up mental health initiative 320 to help others who may be experiencing similar problems to Chester.
"I was uneducated about the challenges he faced and I wanted information - but finding answers to my questions and available help for our family was very difficult."