Panic! at the Disco frontman wants a West End role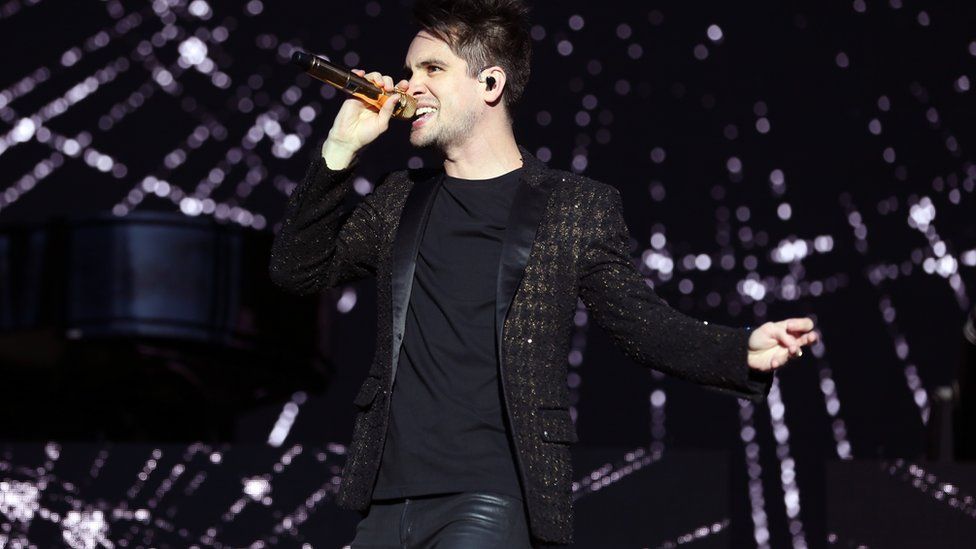 Just over a year ago, Brendon Urie hung up his bright red boots for the final time after starring in the musical Kinky Boots on Broadway.
It was the Panic! at the Disco frontman's first ever theatre role.
Now he says he's eager to do more and wants a stint performing in British theatre.
"I would love to do the West End, but only if I play an American," he told Newsbeat before his headline set at Reading and Leeds festival.
"I wouldn't want to butcher their language in front of them."
Brendon had to perfect a Northampton accent for the role of Charlie Price in Kinky Boots.
"For me to be invited to be on the show is kind of surreal because I don't consider myself an actor by any means.
"For them to take me on and be like, 'Oh you have to do a Northampton accent'.
"I was like, 'Really it's going to sound Australian'."
Despite how tiring performing in a musical can be, Brendon says he now has a taste for it and wants more.
"The dream is to play Jean Valjean in Les Miserables or to be Elder Price in Book of Mormon.
"Broadway is a different beast entirely to being in a band: It is the most gruelling schedule. It's the most exhausted I had ever been.
"I also didn't plan ahead enough. We had just done a two and a half month tour and I was like, 'Screw it, I am going right in to Broadway'. But it was cool - I'd never take it back."
Brendon fulfilled another dream by co-headlining Reading and Leeds festival at the weekend
"This is like Mecca, this is the biggest festival for us," he said.
"It is kind of amazing to still be playing here and now headlining. There is something just magical about it that you couldn't exchange for anything else."
Panic! at the Disco first played in 2006 but with an almost entirely different line-up.
"This is the happiest I've been especially with the iteration of the band right now," said Brendon. "We've got three string players, three horn players and a new bass player. It's just been so much fun."
They have also adopted a pre-show ritual from Foo Fighter frontman Dave Grohl.
"I have to warm up for about 20 minutes, after that we do a sequence of high fives with everybody in the band," he told Newsbeat.
"It has to be in a certain sequence and then we do a double shot of tequila and then we hit the stage.
"We learned doing the double shot from the Foo Fighters.
"We asked Dave Grohl why they do this massive shot before they go on stage he said, 'It kills the hyper awareness'.
"That way, you are not looking out and forgetting lyrics or forgetting this and that. It makes a lot of sense.
"It's always tequila. We tried whiskey one night and we looked around and we were pretty grumpy old men. So we're sticking with tequila: That is a party drink."