Brockhampton on changing hip hop's 'homophobic space'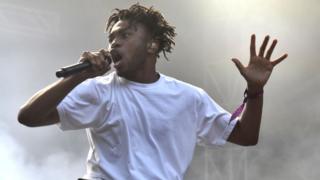 It's a good time to be part of Brockhampton.
The band has just played massive sets at Reading and Leeds, they're making their fourth album Iridescence at Abbey Road and have just announced a huge US tour.
Speaking to Annie Mac on Radio 1, they discussed their recent "life-changing" gigs which showed them "the connection" they have with fans.
Founding member Kevin Abstract also spoke about what it's like being a gay rapper in the hip hop community.
"I don't want to be labelled as 'queer rapper', I just want to be a rapper," he said.
"I have to exist in a homophobic space in order to make change and that homophobic space would be the hip hop community.
"So me just existing and being myself is making change and making things easier for other young queer kids.
"I want to be me and express that and break new ground along the way.
"We embrace transparency. Hip hop's all about expression that's why I got into it."
Kevin Abstract, whose real name is Ian Simpson, has regularly referred to his sexuality on his lyrics - including the difficulty he's had coming out to his mum.
In the opening lines to his 2016 solo track Miserable America, he says: "My boyfriend saved me, my mother's homophobic, I'm stuck in the closet, I'm so claustrophobic."
The following year his verse on Brockhampton's Junky includes the phrase: "I told my mum I was gay why ain't she listening?" and sees him asking why more people aren't rapping about being gay.
He does have a bit of a point.
Comparisons could, and have been, drawn between his outlook and that of the likes of Frank Ocean, Andre 3000, Young Thug and Macklemore who have included clear references to gender fluidity and homosexuality in their fashion and lyrics.
However, there have historically been plenty of examples of homophobic phrases and attitudes being used in mainstream hip hop.
Eminem's surprise new album for example has been criticised for using a homophobic slur in a diss track aimed at Tyler, the Creator.
And Tyler himself has previously had to defend his repetitive use of the same term in his own music, claiming he's "not homophobic".
During their interview with Annie Mac, Brockhampton explained Kevin's openness has "also helped our relationships in the group" and makes members more willing to speak honestly about any issues they might be having.
This attitude is something LGBT+ helpline Switchboard says is a step in the right direction.
"It's great to see those in the spotlight being open and positive about their sexuality," Natasha Walker, a trustee at the charity, told Newsbeat.
"It's really important for young people to have role models, especially LGBTQ+ role models. These people are the key to changing perceptions.
"The more open we are with society, the more accepting society will become in how people choose to identify, both in sexuality and gender."
Follow Newsbeat on Instagram, Facebook and Twitter.
Listen to Newsbeat live at 12:45 and 17:45 every weekday on BBC Radio 1 and 1Xtra - if you miss us you can listen back here.