Eminem's Kamikaze: Is it time for the 'greatest' to quit?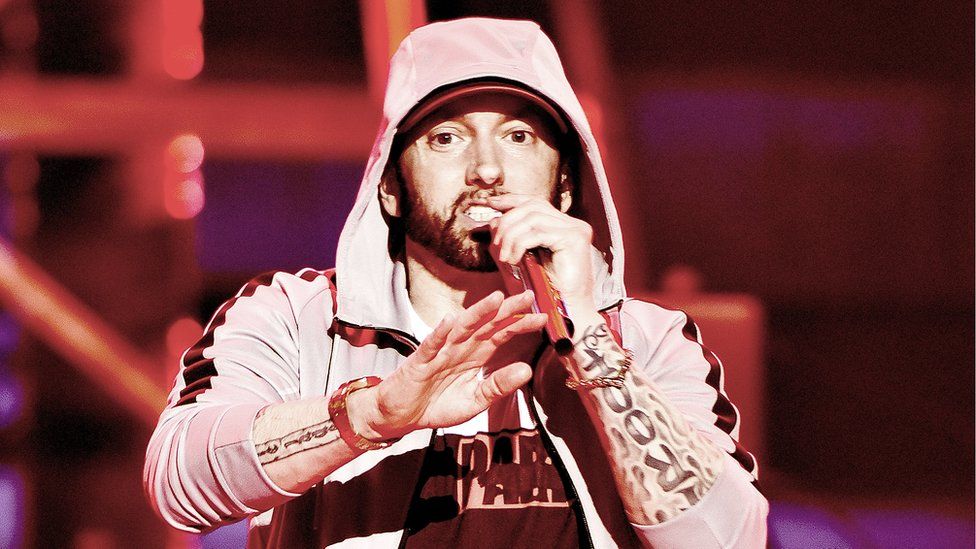 Eminem's surprise album Kamikaze has made UK chart history.
It's the rapper's ninth record in a row to go to number one, breaking the record for most consecutive chart-topping albums - a title previously held by Led Zeppelin and ABBA.
Fans and artists tell Radio 1 Newsbeat the milestone confirms Eminem as the "greatest of all time".
And while plenty agree, some say reaching the landmark means it's "high-time for him to retire as an act".
"He's a rapper who really expresses himself - a lot of other rappers don't do that. Maybe they're afraid to.
"I loved his really comedic phase when he was doing really funny videos as well."
The comedy era of Eminem came early in the rapper's career.
Tracks like My Name Is from 1999's The Slim Shady LP and 2002's Without Me were accompanied by videos which often saw him taking on light-hearted storylines.
It was the era when Krept & Konan had his music "on repeat".
"He is one of the best artists in the world, period. In his creativity, videos - everything.
"Eminem is the GOAT - that's the word that comes to mind straight away when you think about him."
His status hasn't come without controversy though - Eminem's lyrics have always split opinion.
We don't have enough time to list the many, many subjects he's rapped questionably about over the years - but the list includes domestic abuse and school shootings.
And he's been regularly criticised for the homophobic slurs that have featured in his songs - which even appear on Kamikaze in a diss directed towards Tyler, The Creator.
It's the sort of thing that can't be overlooked, according to leader singer of Imagine Dragons, Dan Reynolds.
He tweeted: "It's never ok to say a word that is filled with hate. I don't care what year you were born in or what meaning it has to you.
"If it contributes to hate and bigotry then it is hateful. period."
The BBC is not responsible for the content of external sites.
Skip twitter post by Dan Reynolds
Allow Twitter content?
This article contains content provided by Twitter. We ask for your permission before anything is loaded, as they may be using cookies and other technologies. You may want to read Twitter's cookie policy, external and privacy policy, external before accepting. To view this content choose 'accept and continue'.
The BBC is not responsible for the content of external sites.
End of twitter post by Dan Reynolds
The use of homophobic lyrics is also criticised by Dan Stubbs, Commissioning Editor at NME.
Speaking to Annie Mac on Radio 1, he said: "Twenty years ago when he first came out, no-one would have blinked at this but the world has changed and he should have changed with it.
"I think it's a blot on an album that didn't need it. On an album with lots of things to talk about, this one's taken attention because it's shocking."
For producer Steel Banglez, it's the team working around Eminem that have been the most inspiring.
"Mike Elizondo, who works with Dr. Dre, is a producer who I really idolise," he says.
"He's the guy behind Lose Yourself and he made a lot of the Marshall Mathers EP.
"I was in the studio with him at the start of this year - his production style is what's influenced me."
Big Narstie says Eminem is a "lyrical genius", but wonders whether other artists could potentially achieve similar success with access to the "money machine that Eminem's got behind him".
"If someone could throw 30 or 50 million behind my project... wow.
"I'd love to see what he's done being achieved by an independent label with a budget of like, £25,000."
The BBC is not responsible for the content of external sites.
Skip twitter post 2 by fade.
Allow Twitter content?
This article contains content provided by Twitter. We ask for your permission before anything is loaded, as they may be using cookies and other technologies. You may want to read Twitter's cookie policy, external and privacy policy, external before accepting. To view this content choose 'accept and continue'.
The BBC is not responsible for the content of external sites.
End of twitter post 2 by fade.
The album's had a generally positive response from fans, too.
"I don't know what he was doing with that Pink jam," long-time fan Vikar tells Newsbeat.
Vikar clearly wasn't a fan of Need Me, which features the singer.
And after being disappointed by Revival generally, he wasn't expecting much from Kamikaze.
"But when I heard it I thought, he must have realised the mistakes he was making before.
"He's changed his choppy flows and maybe not working with Rick Rubin helped. The Dr. Dre touch has boosted it."
Despite being positively surprised, Vikar thinks it might be time for Em to hang up his mic.
"Eminem is a brand so however good or bad his albums are, they're always going to go to number one because he has such a fandom.
"When he released Revival I thought he should have stopped, but it wouldn't have been a very good album for him to retire with.
"Now that Kamikaze's out I'm not sure if he can produce a better album.
"He should quit releasing albums now. He could start producing albums for other people - but this seems like the right album for him to retire with."