#PassThePasty: How a Cornish pasty gripped the nation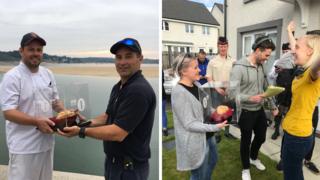 "We went away and thought, what's the stupidest thing we can do?"
If you've listened to the new Radio 1 Breakfast Show with Greg James at any point over the past week, you're probably aware what that statement from Greg relates to.
And it boils down to this: a Cornish pasty has been travelling pass-the-parcel style from the South West of England all the way up to Aberdeenshire.
It's been labelled #PassThePasty and is loosely Michael Owen's fault, Greg explains.
"He confessed that he'd never had a cup of tea in his life before. And then we started talking about things that everyone has done that you haven't."
As a result, people across Britain have been doing a relay race with a Cornish pasty in a plastic box, desperately trying to get it to a listener called Sarah who has never had one before.
Until now.
The pasty finally reached Sarah after 19 stops and four days travelling across the British Isles with Radio 1 listeners.
"I have no words," she said to the sound of bagpipes as she took her first ever bite of a Cornish pasty.
"This is brilliant."
The pasty, which was baked in the award-winning Chough Bakery in Padstow, Cornwall, began its journey on Monday.
"The pasty will be hitchhiking its way to Sarah with the help of as many people as possible," Greg said when he announced the challenge.
"If you can help, we want you. We want you to do a leg of the journey. If you're going that way, take the pasty with you."
It needed to make it to Newmachar in Aberdeenshire, 674 miles away.
People got in touch through social media and text, offering their help to take the pasty up to Sarah.
It visited Burnley's Premier League football ground...
Went on Britain's biggest professional bike race.
It's been skiing.
Spent time on a world famous train.
At one point it even went on a rollercoaster.
And now the pasty is known by some of the world's most famous faces.
Louis Tomlinson proved that he knows everything there is to know about the pasty - from who baked it (Danny), to whether it will be past its best (nothing but the best will pass Sarah's lips.)
No wonder some people are jealous.
Greg says that #PassThePasty is exactly the type of thing he wants his breakfast show to be known for.
"The new show is all about making sure we do the silliest thing possible and making sure it's always about the listeners and that we do something that involves them," he says.
It's only a few weeks into the new show, but Greg says his team have been having "the most extraordinary time".
"The reaction from the listeners has been overwhelming at times. It's been great and I just want to make sure that we don't take that for granted and make sure we push on - because we've only just begun really."
Follow Newsbeat on Instagram, Facebook and Twitter.
Listen to Newsbeat live at 12:45 and 17:45 every weekday on BBC Radio 1 and 1Xtra - if you miss us you can listen back here.