Black Panther star Chadwick Boseman wins international man of the year at GQ Awards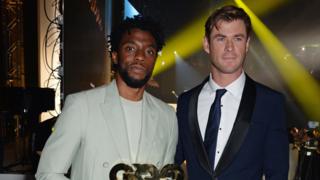 Chadwick Boseman took one of the main prizes at the 2018 GQ Men Of The Year Awards.
The Black Panther actor took International man, while Olly Alexander from Years and Years was awarded with the live act award.
The prizes recognise men and woman across sport, politics, entertainment and of course style.
Dua Lipa also won best solo artist with Jorja Smith named breakthrough solo artist.
Speaking after his win, Chadwick spoke about how he's dealing with the increased profile.
"Day to day, it's a different experience. You try to keep things the same and they are, you're still living, breathing, eating, loving your family and friends but it is a little bit different when you go outside."
Rose McGowan became the first woman to win the Inspiration prize, for her role in the MeToo movement, since making claims against the disgraced Hollywood producer Harvey Weinstein, which he denies.
The actress said it had been a "fight" since coming forward, and that she felt "emotionally, I was a bit more like a man".
"The weight is very heavy," she said. "It's been a fight. It's been a fight every goddamned day. Some fights, and justice, that's worth it.
"You cry a couple of tears, you pull up your bootstraps and you march on and that's what I did."
Off the back of Rose McGowan's recognition, actor James Norton said there also needs to be a conversation about how young men think about masculinity.
"There has to be a recalibration," he said. "And I think people who are going to pay that cost are white men, like myself.
"You occasionally hear people who just go: 'It's not my fault, I didn't cause this, I'm a modern man, I stand for progress etc', but I think at the end of the day if it's going to happen, a cost is going to have to be paid and someone is going to pay it."
Winners list in full:
HRH The Prince of Wales - Editor's Lifetime Achievement Award For Services To Philanthropy
Dua Lipa - Solo Artist
Charles Jeffrey - Breakthrough Designer
Chadwick Boseman - International Man
David Lammy - Politician
Harry Kane - Sportsman
Tom Bateman - Breakthrough Actor
Jonathan Yeo - Gallery Artist
Sacha Baron Cohen - Editor's Special Award
Michael Wolff - Writer
Jorja Smith - Vero Breakthrough Solo Artist
Johnny Marr - Lifetime Achievement
Rose McGowan - Inspiration
Naomi Campbell - Fashion Icon
John Legend - Most Stylish Man
Daniel Kaluuya - Actor
Elisabeth Moss - TV Actor
Donatella Versace - Designer
Jeff Goldblum - Icon
Follow Newsbeat on Instagram, Facebook and Twitter.
Listen to Newsbeat live at 12:45 and 17:45 every weekday on BBC Radio 1 and 1Xtra - if you miss us you can listen back here.