Liam Hemsworth v Karen Khachanov: The latest celebrity doppelgangers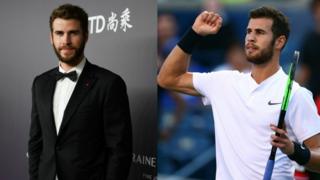 Actor Liam Hemsworth and Russian tennis player Karen Khachanov are the latest dopplegangers to stun the internet.
After playing against Rafael Nadal in the US Open, fans were quick to notice his uncanny resemblance to the actor.
Of course, they're not the first famous people to look like each other.
But it's an excellent opportunity to look at some other "identical" pairings.
These tweets speak for themselves.
Henry Cavill and Matt Bomer
Margot Robbie and Jaime Pressly
Tom Hardy and Logan Marshall-Green
Bryce Dallas Howard and Jessica Chastain
Of course having a doppelganger isn't only limited to celebrities and there have been times when "ordinary" people have crossed paths with their match.
Jack McClelland met his doppelganger while at a boat party in Ibiza and posted the picture of the two of them on Twitter.
In the photo they appear to have almost identical faces, except Jack has a nose piercing and his new "twin" doesn't.
"Couldn't believe my eyes mate," Jack tweeted.
'He had my face'
It's not the first time this has happened to two strangers.
Neil Thomas Douglas boarded a flight to Ireland and came face-to-face with his lookalike too.
The picture was posted on Twitter and it went viral.
Talking to the BBC in 2015, he said: "I was the last one on the plane and there was someone in my seat, so I asked the guy to move. He turned around and he had my face."
"The whole plane looked at us and laughed. And that's when I took the selfie."
Later that night they were reunited again by another complete coincidence.
"I went to the pub and again, there was my twin.
"Total weirdness," he added.
Follow Newsbeat on Instagram, Facebook and Twitter.
Listen to Newsbeat live at 12:45 and 17:45 every weekday on BBC Radio 1 and 1Xtra - if you miss us you can listen back here.