Olivia Munn 'shunned' by The Predator cast after having scene cut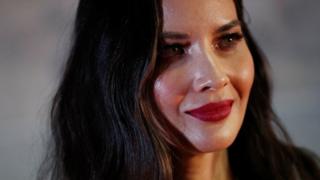 Olivia Munn says she feels "lonely" having to promote The Predator alone after she spoke out against filming a scene with a sex offender.
Her co-stars have backed out of interviews after it emerged one of the cast was a sex offender, according to the Hollywood Reporter.
The actress says she didn't know about Steven Wilder Striegel's conviction when she shot a scene with him.
After finding out she told the studio, Fox, which then cut the scene.
The 38-year-old told the Hollywood Reporter she "should be sitting here with the rest of the cast" rather than on her own to promote the film.
The film's director Shane Black, who is a friend of the offender Steven Striegel, also didn't attend the premiere in Toronto.
He released a statement where he said: "I apologise to all of those, past and present, I've let down by having Steve around them without giving them a voice in the decision."
Fox said they weren't aware of Striegel's background when they hired him.
According to the LA Times, Steven Striegel pleaded guilty in 2010 following allegations he had acted inappropriately with a 14-year-old girl he was related to and spent six months in prison.
He has since appeared in the Shane Black films Iron Man 3 and The Nice Guys.
"It's been most tough on the Jane Doe that was in the story," says Olivia Munn, who was referring to the unnamed victim.
"Whatever she's gone through in the subsequent years is most important to me."
"At the end of the day, it's just a movie," says the actress, who has appeared in films such as X-Men: Apocalypse, Magic Mike and Iron Man 2.
"There are people who get very mad at you for not just helping them bury it."
She adds: "Now when I'm being asked about it, I don't know how to lie about it.
"I don't know how to pretend, I don't know how to skirt around the issue."
Her Predator castmate Sterling K Brown has come out in support of her online.
Another castmate, Keegan-Michael Key, told the Hollywood Reporter that he had completed his scheduled interviews and that he "reached out to Olivia privately last week to let her know how proud he was of her".
Olivia Munn has spoken before in defence of the #MeToo movement, and was one of six women who accused director Brett Ratner of sexual harassment, which he denies.
She also added that people should be able to make a choice whether or not they work with a convicted criminal.
"That decision was made for me.
"My choice will always be to never give a second chance to anyone who hurts a child or an animal.
"That's me. Everybody has their own prerogative. If you're going to ask me, that's going to be my choice."
20th Century Fox and Olivia Munn have been contacted for comment.
Follow Newsbeat on Instagram, Facebook and Twitter.
Listen to Newsbeat live at 12:45 and 17:45 every weekday on BBC Radio 1 and 1Xtra - if you miss us you can listen back here.