Cartoonists discuss 'racist' Serena caricature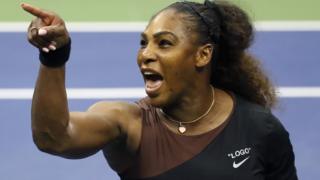 You'll have almost certainly seen the picture by now.
A cartoon of Serena Williams, jumping above a broken racquet next to a baby's dummy. It was published following her meltdown during the US Open final.
But the cartoon was quickly criticised for being racist and sexist - something the Australian illustrator, Mark Wright, denies.
Newsbeat's been speaking to two other artists to discuss the controversy and whether they think there was anything wrong with the image.
Mengistu Etim's a caricaturist and illustrator who's black.
Charlotte Bailey's a cartoonist and describes herself as "mixed Jamaican English" heritage.
First up, first impressions of the cartoon.
Charlotte: I get it's a caricature. But I personally find it incredibly distasteful. Especially portraying her as the archetypal black woman. I don't know what he was thinking.
Mengistu: I can see the stereotype of the 'angry black woman' is the first thing some people will see. But I think that the context is correct.
Serena was having a massive tantrum and the cartoonist was making fun of that. It does look like Serena and she was really upset.
Charlotte: I get Mark Knight's other portrait subjects have exaggerated features. So of course, his depiction of Serena is going to have big lips and a muscled physique.
But you can't apply the same caricaturing that you apply to other famous people to a black sportswoman. It's very much punching down rather than punching up.
I'm not saying she's untouchable. It's not to say you can't make her into a silly caricature. I'm sure she can laugh too.
I can understand why he says it's not racist but I think you'd be hard pressed to find a black woman artist drawing her the way he did.
He wasn't trying to provoke, it wasn't malicious. He just wasn't thinking. That's why he can't understand the backlash.
Mengistu: At the root of this is the harmful, and downright outrageous, way that blacks were sketched. It was a centuries-long smear campaign to dehumanise blacks. There are really harmful caricatures that everyone recognises.
When I do caricatures, I'm sensitive and fully aware of the ethnic features when I sketch somebody.
If I'd have got this brief, would I have drawn it differently? Maybe. But I guess being black, no-one can accuse me of being racist.
But I don't think the artist meant anything by it, I think he was just trying to make a really funny caricature.
Follow Newsbeat on Instagram, Facebook and Twitter.
Listen to Newsbeat live at 12:45 and 17:45 every weekday on BBC Radio 1 and 1Xtra - if you miss us you can listen back here.