London Fashion Week: How it feels to walk the runway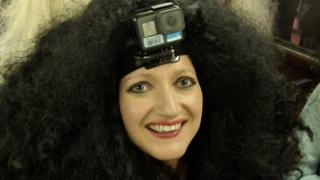 "Can you take your bra off?" a fashion assistant asks.
"Absolutely not," I reply, realising I've probably had my first diva moment as a catwalk model.
It's the opening night of London Fashion Week and I've been asked to be a model for designers Vin+Omi.
We're backstage at a hotel in Liverpool Street, where 60 models are being prepped, plucked and pinned ready for the show.
I win my argument and keep my bra on but the rest of my body is handed over to the team.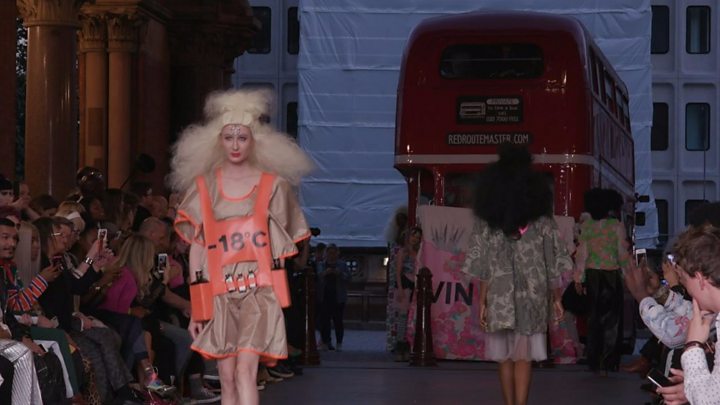 Before I enter the mayhem, I'm offered rosemary infused water, kombucha and popcorn - so I pop to the shop and grab a sandwich. No, I don't know what kombucha is either.
It's five hours until the show and I need sustenance to get me through the pampering.
Backstage, the atmosphere is buzzing and the models seem excited to be a part of this high fashion circus.
There are random names being called out and questions asked. "Who's got scissors/sewing needles/tights?"
"Take this off me," a woman screams. The room falls silent.
One model doesn't want to wear her symbol - which is painted on everyone's forehead. She's quickly appeased and the chatter starts up again.
My nails are stuck on - they're made from pasta - and my shoes are glued to my feet to keep them on.
I feel like a doll being dressed by a toddler.
But this is high fashion - eco style - daahling.
'We're not exploiting models'
Like all the models here, fine arts student, Paige, tells me she's not getting paid to walk for Vin+Omi.
Later I ask Vin whether he's exploiting the models by not paying them.
He finds it difficult to answer and thinks about it for a while.
He says as a label they don't make money, like other big fashion brands, so he doesn't think they exploit them.
It's not just the models who aren't being paid. George, who's 19 and a photographer, isn't either.
He says it's normal not to be - especially when you're starting out in the industry.
George says he's building up contacts and relationships - and boosting his portfolio.
Lots of the models say they want to be involved because they believe in Vin+Omi's brand and what it stands for.
'Give me your plastic and I'll make a dress'
The fashion industry is the fourth largest contributor to impacting the environment after housing, transport and food, according to the Waste and Resources Action Programme. (WRAP).
Vin and Omi tell me they want to help change this and see what they are doing as revolutionary.
Vin+Omi's collection uses fabrics made from nettles and cow parsley which they cultivate near their studio in the Cotswolds.
They also use a material made from canned drinks, collected by homeless people in Birmingham who are paid for their work, as part of a social enterprise project.
My outfit is made from plastic bottles collected from the River Thames and I'm wearing a wig reclaimed from an old theatre in Oxford.
My shoes are actually two shoes combined - a trainer and some six inch heels - 'up cycled' from a charity shop.
The shape of the future?
Before agreeing to walk for Vin+Omi, they assured me their show is diverse - with models of all sizes, ages and ethnicities.
True to their word, backstage I spot a few body shapes similar to mine.
"Fashion is changing, just look at the models, that one's got big boobs," former model Jo Wood says.
Jo, who's also taking part in the show with her daughter Leah, is herself 63.
Leah tells me to drink lots of water - fashion week is draining, she says, mainly because of all the parties.
Why are you using glue on my face?
All the make-up is organic - to stay "on brand", so I'm surprised when make-up artist Faye pulls out a Pritt stick "to work my eyebrows".
It apparently makes them "stick up" which I'm told is a good thing.
It's one of Faye's first ever shows - she contacted Vin+Omi so she could work with them.
"They're about to blow up," she tells me.
"What they're doing is new and exciting."
When it's time to go, we're put on a bus - to save on carbon emissions. It's a 20-minute journey and it's sweltering.
The one downside to plastic dresses is that they're not exactly breathable.
We're all sticking to the seats and banging wigs but excitement and anticipation fills the air.
Paige gives me some last minute advice - she tells me to look up at the lights above the camera pit and stick to my pace.
This is couture life.
When it comes to it though, my legs (which have turned to jelly) are about six feet shorter than everyone else's.
Sticking to a pace isn't going to work.
At St Pancras train station I step off the bus. The noise - a mix of cheering and music - hits me and cameras flash in our face.
Taking Paige's advice, I concentrate on the lights and I even manage to put one foot in front of the other.
Then after a minute or so, it's all over.
I survived, and I didn't trip...until I hit the cobbles at the end.
Before we know it, we're bundled back on the bus, weary from the heavy wigs and gasping for food and drink.
Back at the hotel, our clothes, make-up, nails and wigs are removed.
I bypass the rosemary water - it's time to find the after party.
Follow Newsbeat on Instagram, Facebook and Twitter.
Listen to Newsbeat live at 12:45 and 17:45 every weekday on BBC Radio 1 and 1Xtra - if you miss us you can listen back here.