Poor Toad: How Stormy Daniels ruined Mario Kart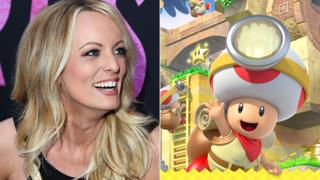 He's the lovable mushroom-headed character from the Super Mario games.
But thanks to excerpts from porn star Stormy Daniels' tell-all book, Toad has become associated with US President Donald Trump.
In it, she compares Trump's penis to the "mushroom character in Mario Kart".
It was a detail which sent people online reeling, with many suggesting Toad deserved much better, and it wasn't long before the inevitable memes and jokes started.
The Guardian has got a copy of the yet-to-be-published memoir Full Disclosure.
It apparently goes into salacious details about her alleged affair with President Trump.
Stormy Daniels was paid $130,000 (about £90,000) through Trump's former lawyer Michael Cohen, shortly before the 2016 election.
Reactions online ranged from amusement to horror, as both Toad and Mario Kart began trending.
Nintendo Life, a website which covers all things Nintendo, got in on the joke.
Before bringing back one of the president's most infamous tweets.
Nintendo did not comment, though one of their tweets from 2015 became popular once more.
Writing for Slate, self-described Toad fan Nitisha Pahwa said: "I am simply mourning that Toad, in my view the best Mario Kart character - both as a personified mushroom and as a racer - will now forever be associated with an 'unusual' penis."
Meanwhile, NY Mag's Brian Feldman argued this was the latest example of the "modern joys" of being a Mario fan.
"A relatively bland franchise has been pushed to incredible new heights by an internet hive mind relentlessly devoted to corrupting every part of this franchise," he wrote.
"In fact, that's really the main appeal of Mario at this point."
President Trump has not commented on the latest revelations from Stormy Daniel's book.
Follow Newsbeat on Instagram, Facebook and Twitter.
Listen to Newsbeat live at 12:45 and 17:45 every weekday on BBC Radio 1 and 1Xtra - if you miss us you can listen back here.