US football mascot video goes viral after accident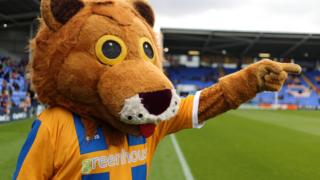 A video of Colorado's football mascot accidentally shooting himself in the groin with a T-shirt cannon has gone viral.
Thousands of fans watched from the stands as Chip the Buffalo doubled over clutching his furry stomach.
He was trying to launch a T-shirt into the excited crowds, but clearly didn't notice he was holding the gun the wrong way between his hooves.
Medics were called onto the pitch and he was carried away for a check-up.
But, even as he was wheeled off Chip courageously kept his head on.
Thankfully, Chip posted later letting fans know that there was no lasting damage done.
He said: "I'm good guys - thanks for all the love."
"Ooh I feel his pain," responded Shrewsbury Town FC mascot, Ron Millar.
"I've tripped over plenty of times going down some steps and everybody laughs.
"Of course you're in agony, but you have to pretend you did it on purpose."
Ron says that no matter what's happening on the inside of the suit it is crucial to keep up the act on the outside.
"That's the funny part of it, you see, all they [the crowd] can see is this face that doesn't change its expression.
"Lenny the Lion has this face of like 'cheese' all the time, he's always smiling."
Ron is famous at Shrewsbury Town matches for throwing sweets into the crowds and has been a fixture there for more than 20 years.
Keep your head on
And, he's not surprised Chip the Buffalo stayed in character after the cannon mishap.
Keeping the head on, Ron says, is an unwritten rule of the job.
"I wouldn't have taken my head off either in that situation, because I can imagine his actual face would have been a lot worse than the mascot's."
For him, it's important a mascot enjoys the role and stays out of the action on the pitch.
Historically though, mascots have had a habit of finding their way into the spotlight.
Back in 1998, Wolves mascot Wolfie ended up in a fight with two rivals, who were dressed as pigs.
For Lenny the Lion though, perhaps those inside the giant heads need a little more understanding from us.
After all, it can't be easy being the only one dressed like this...
Or this...
"When you're given a cannon I think you should have someone passing it to you pointing in the right direction," concludes Ron.
"So you do need a minder. Unless your minder is a bit mischievous as might have been the case here."
Follow Newsbeat on Instagram, Facebook and Twitter.
Listen to Newsbeat live at 12:45 and 17:45 every weekday on BBC Radio 1 and 1Xtra - if you miss us you can listen back here.