Dad trainers: Why they're back in fashion
By Kamilah McInnis
Newsbeat reporter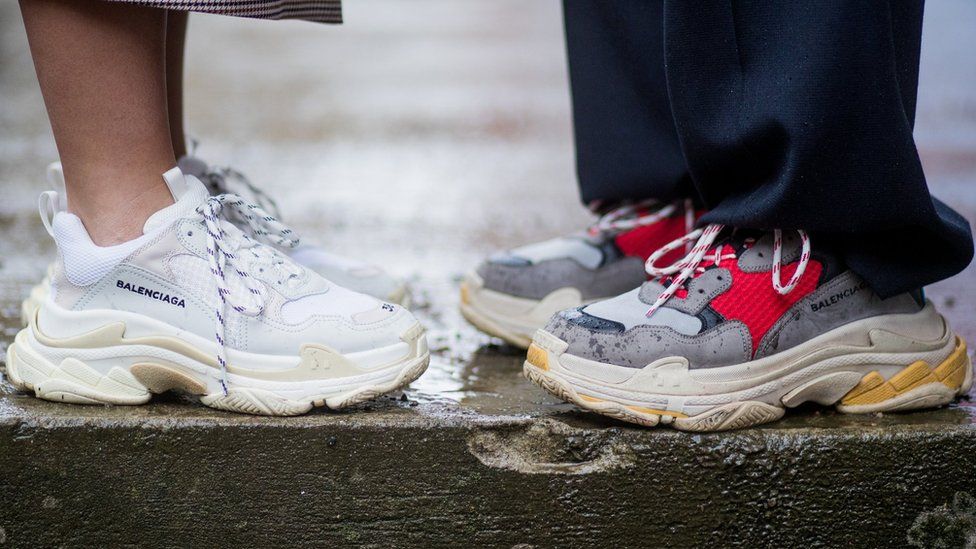 Those chunky, clunky, old-school trainers - often nicknamed the 90s "dad trainer" are back in fashion.
It's part of the reinvention of sportswear, which has upgraded from being worn in the gym to being seen on the catwalk.
Retro sports brand Fila debuted at Milan Fashion Week on Sunday with its spring/summer 2019 collection.
And whether you love them or loathe them, it's predicted dad trainers will be sticking around for a while.
Radio 1 Newsbeat takes a look at the reasons why:
Cycling shorts, high-waisted ripped jeans, catsuits and unitards, dad trainers.
These were at the height of fashion in the 90s. Fast forward 20-odd years and they're back in again.
Stylus fashion trend forecaster Emily Gordon-Smith says it's because our "desire, passion and nostalgia for previous decades" has turned into a trend.
"It's one that we're forecasting going forward for at least the next couple of years, and the 90s and early noughties have become a real focus," she tells Newsbeat.
"This whole sort of dad trainer thing is very much a part of it."
However, the extreme chunkiness and mismatching colours of some of the styles has emerged from an evolving trend - "ugly fashion".
"It sounds slightly bizarre, but it's true to say that things that are ugly have really become quite cool and chic," says Emily.
April Winters, 22, a broadcast and production coordinator from West Yorkshire, is a fan.
She says all of her trainers are chunky dad trainers and that she's been into "ugly dressing since forever".
"Dad trainers are definitely ugly and I love it," she told Newsbeat. "I like them, for the look."
Wearing sportswear, but not for sport
Sportswear, streetwear and athleisure are no longer just for wearing when you're chilling watching Netflix on a Sunday night.
They've also made their marks on the catwalks at fashion weeks across the globe.
"The whole sportswear thing is such a massive phenomenon," Emily says.
"There's no real sign of that going away. It's effectively how everybody wants to dress now and it's got a lot to do with comfort rather than actually being active."
She says the sportswear trend is "here to stay" but fashion fans are also looking for something "slightly more irreverent and different".
And so the dad trainer was reborn.
Celebrities and the need to stand out
It's no secret that we look to celebrities and social influencers for a bit of fashion inspiration.
When designer brand Balenciaga released its Triple S trainers range in early 2017, it set a trend.
And it didn't take long before celebrities cottoned on.
According to Emily, well-known style icons and influencers have had a "huge impact" in the increasing popularity of fashion-led sportswear.
She says celebrity collaborations with big name designer brands have also had a hand in raising the "desirability status" of dad trainers.
Molly Dunne, 27, a senior publicist from London, says she discovered her love for the dad trainer after seeing singer SZA wearing a pair in white.
"I was like 'Ah I'm gonna get some of them' and then I went in the shops and they had rose gold and I was like 'Even better'," she tells Newsbeat.
"I like that they're really chunky and they stand out."
And that's exactly what one of the major appeals of the style is - the fact you're likely to stand out while wearing them.
"We're all dressing in such a generic homogenised way," Emily says.
"The need for something that is a little bit unexpected - a little bit slightly unattractive, in its own way - has just suddenly got an appeal."