Edinburgh nightclub meme: What was being said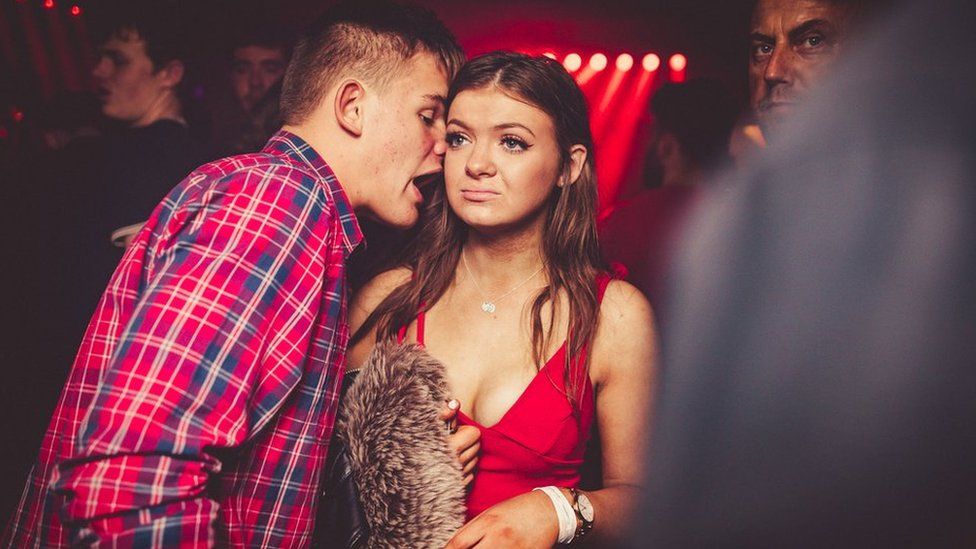 You step into a nightclub and you don't know what will happen.
You might be hoping to just have a dance with your mates, or maybe to meet someone. But you're probably not expecting to become a meme.
That's what happened to Patrick Richie and Lucia Gorman when they went on a night out in Edinburgh.
Lucia looks unimpressed with whatever Patrick was yelling into her ear over the music.
Radio 1 Newsbeat spoke to the two 18-year-olds about what it feels like to become a meme, and what was being said.
But first, let's enjoy what the internet has done with the image.
We've got animal references...
...political mansplaining...
...historical world affairs...
"Yeah...so ultimately the same policies that Gorbachev hoped would bring about, like, radical change in the Soviet Union actually ended up hastening its eventual demise, see?" pic.twitter.com/QTaymWqP3U

— Various Jams (@VRSJMS) September 24, 2018
You know, all the usual subjects you cover on a normal night out.
A lot of the jokes revolve around Lucia looking like she's the victim of unwanted attention.
When Newsbeat caught up with Patrick, he joked: "That doesn't look good for me, does it?"
Actually, the two were at school together and hadn't seen each other for a while - the now famous photo was taken as they were having a quick catch up.
Lucia admits she was pretty much ready to go home - which explains her expression.
"I don't know what he said but I know I definitely wasn't having any of it," she told Newsbeat.
"I feel like it was probably the end of the night and I was definitely ready for my bed.
"I probably just thought, 'I'll nod at anything at this point'."
Neither of them knew the photo existed until it began going viral.
The photo was taken by David Wilkinson who was at the club for an event with Love Island star Jack Fowler.
"When I took the picture, it was just a quick snap before I left to go home," he tells Newsbeat.
"I don't like just taking pictures of people smiling. I like to notice the little details, so when I saw it I thought this definitely needs to go up.
"The day that it blew up it was my birthday, but I actually got more messages about the picture than I did about my birthday so it was quite weird."
Lucia, a student at Strathclyde University, said she does PR for the same club night, called Milk, in Glasgow - but insists this was no PR stunt.
"I can understand if people thought this is all for PR, but the first person to tweet it wasn't anyone to do with Milk - it was someone who goes to school with our friends," she said.
Now, even her grandparents have seen the photo.
"It's all pretty funny to be honest," she said.
While Patrick says the attention is pretty weird, he isn't that bothered.
"I'm sure it'll all be fine," he said.
He added: "You obviously can't hear people in these places so you speak to them like that all the time."
And have they learnt anything from the experience?
"I probably wouldn't have worn that shirt if I'd known I was going viral, I guess," said Patrick.
"But… nah, not really. It's just one of those things."
Lucia said: "I'm just glad I did my make-up that night."
She added: "What I should have learnt, actually, is to scrub my tan properly, because if you zoom into the photo I have this rash on my neck and the tan is on that, and everyone is commenting like her tan's awful.
"That's something I've learnt - invest in good fake tan."