Marta an 'inspiration to women players across the globe'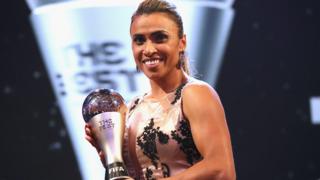 Brazilian striker Marta Vieira da Silva has done something that's even eluded the likes of Cristiano Ronaldo and Lionel Messi.
She's been rated top of her game in the football world for the sixth time - after winning best female at the Best Fifa Football Awards on Monday.
At 32 years old, the prize seems to suggest her career is showing no signs of slowing.
And as some of those involved in the sport have been telling Newsbeat, she's more of an inspiration than ever.
'Phenomenal ability on the ball'
"If you're any sort of young girl with aspirations to play at the highest level, her ability on the ball - it's absolutely phenomenal, a rarity I'd say."
That's the view of former England women's manager Hope Powell.
She told Newsbeat Marta's achievements in football can't be underestimated.
"A real leader, a match winner, an inspiration on and off the pitch - with the work that she's done to promote the game she's a real asset."
Marta, who plays for Orlando Pride in the US, previously won the award in 2006, 2007, 2008, 2009, and 2010.
Now at an age traditionally seen as towards the end of any footballer's career, she's still doing the business.
"Her longevity in the sport and what she's done for it needs to be admired and respected," says Hope, who is manager of Brighton and Hove Albion women's team.
"There are now opportunities for women to become professional footballers and earn a decent living from the game.
"There are lots of players that have made that pathway possible and Marta is one of them."
'It shows women can make it up there with men'
Amy White, 27, from Nottingham, has been a player and coach at various clubs across the East Midlands and described Marta as massively important.
"She's ridiculously phenomenal to watch. She controls the game and can influence it from anywhere," she tells Newsbeat.
"It's nice to see her pictured alongside Luka Modric, who won the men's award.
"It's one of the rarest things, having female role models rather than just male players.
"So it's extremely important to have her at the top level showing women can make it up there with the men.
"It has a massive positive impact, particularly for young females. They can see we do make it at the top stage and are recognised for it."
While there are some that think striker Sam Kerr, who plays for Matildas in Australia, should have picked up the award - few doubt that Marta is one of the game's undisputed greats.
"Your Ronaldos and Messis haven't won it more than five times," says Amy.
"This isn't just a record for women, it's a record for men too and that needs to be recognised. She's an inspiration to many female footballers across the globe."
Follow Newsbeat on Instagram, Facebook and Twitter.
Listen to Newsbeat live at 12:45 and 17:45 every weekday on BBC Radio 1 and 1Xtra - if you miss us you can listen back here.