How Ariana and Beyonce inspired a musical about Henry VIII's wives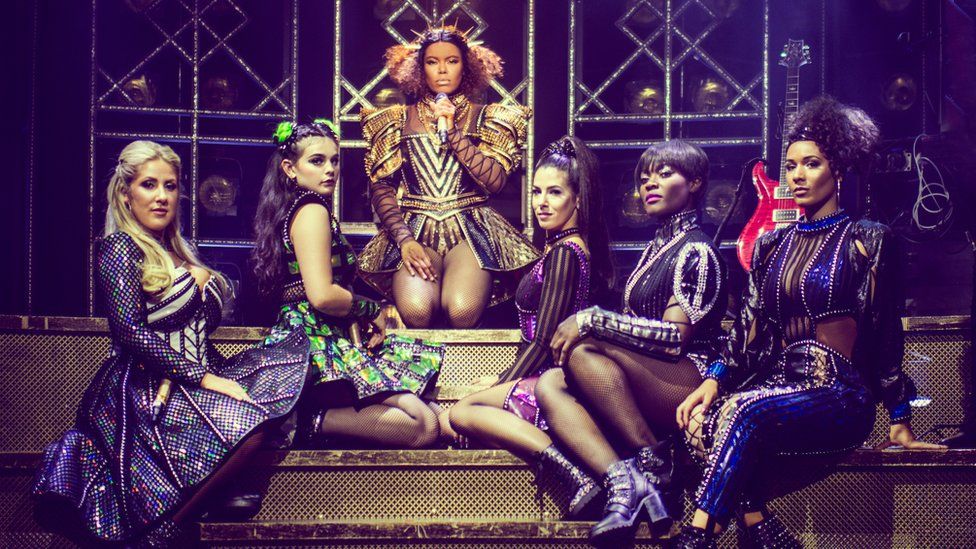 Catherine of Aragon's big moment is a Beyonce-style anthem in which she tells King Henry VIII she will never leave him.
Ariana Grande, Adele and Rihanna are among the other pop stars who've inspired the characters in musical Six - which is based on the story of the Tudor monarch's wives.
"Musical theatre often has lame parts for women," says co-creator Lucy Moss. "We wanted to write loads of meaty, funny parts for women."
Six feels different to your usual theatre performance, with people encouraged to take photos and create Insta Stories during the encore.
The show, which has been running in London's West End since August, turns Henry VIII's six spouses into empowered divas at a pop concert.
The plot plays on a well-known rhyme used to remember what happened to the king's six wives: "Divorced, beheaded, died. Divorced, beheaded, survived."
It was written when Lucy, 23, and writing partner Toby Marlow were in their final year at Cambridge University - and each character's song is inspired by a different A-list singer.
Anne Boleyn's number is sung in Lily Allen's early style.
Jane Seymour has an Adele and Sia-esque ballad, while Anne of Cleves' solo has elements of Nicki Minaj and Rihanna.
Catherine Howard channels Ariana Grande and Britney Spears and Catherine Parr sings an Alicia Keys-style love song.
The overall result is a completely female-fronted musical in which you never actually see the man who connects the six stars - Henry VIII.
Both writers are huge pop fans and wanted to make a musical they'd choose to go and see themselves.
Toby, 23, says he's always been "completely obsessed" with pop music and working out "how to write a hook".
"I'd spend my afternoons in my room listening to One Direction songs trying to work out why it was so catchy."
For example, the musical has a song by Anne of Cleves that throws together loads of rap and hip-hop tropes with Tudor-style references.
She sings: "I'm the queen of the castle, get down you dirty rascal," in one moment, then "fill my goblet up to the brim" in another.
The pair wanted to make something which didn't feel like a musical, claiming that people spontaneously bursting into song could seem "naff and contrived".
However they did want to "mess with the musical format" to make it more appealing, hence the pop concert/talent show-style setting.
They never sought to attract younger audiences into the theatre as they didn't think Six would take off beyond its student production.
Instead, the musical has gone from being shown at Cambridge University, to the Edinburgh Fringe and then the West End.
It's now heading off on a UK tour before returning to London next year.