Meek Mill writes letter to his younger self after prison release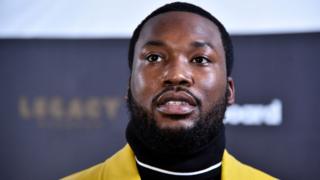 Meek Mill has written a letter to his younger self saying: "In 2018, black lives won't matter much more than they do in 2006."
The rapper addresses his 19-year-old self, before he found fame and had brushes with the law.
"It's your job to show poor black kids from 12th street to Compton how to go hard for their rights," he says.
Meek was sent to jail in November 2017 for breaking his probation - but was released five months later.
Several top stars - including Beyonce, Jay-Z and Kevin Hart - campaigned for him to be freed.
His song was also played by the Philadelphia Eagles American football team before their Superbowl win in February.
In the letter published in XXL magazine, Meek offers his teenage self some advice.
"I need you to focus on the weight of your talent and how it aligns with your purpose.
"I know, right now, life is tough, but you have to believe me when I say it's only temporary."
He even asks whether his younger self is ready for the responsibility of inspiring others.
Meek discusses how successful his career ends up - including recording with Mariah Carey and being able to buy a Ferrari.
"But you wanna know what tops it all? Mom never having to worry about money again because you believed in yourself."
He says things will get "easier and more difficult" for black Americans over the next 12 years - but he can be an inspiration.
"You can be that mirror to the youth, the example that it is possible to turn two handcuffs into an Audemar and a Rollie.
"You have the ability to turn your mugshot into a flashlight that exposes an incredibly unjust judicial system."
Meek Mill, whose real name is Robert Williams, was arrested in August 2017 for reckless driving.
Although the charges were later dropped, a judge ruled the arrest itself was a breach of his probation.
He'd been on probation since 2008, when he was convicted on drug dealing and gun charges.
He was sentenced to two to four years in jail for the breach, before being released in April.
Meek ends the letter with an inspirational message saying kids are "depending on your rhymes for representation".
"Think about how abandoned the folks sitting in jail for a crime they didn't commit feel. Think about how you felt.
"Then sprint toward your throne as if your life depended on it because many other lives do."
Follow Newsbeat on Instagram, Facebook and Twitter.
Listen to Newsbeat live at 12:45 and 17:45 every weekday on BBC Radio 1 and 1Xtra - if you miss us you can listen back here.