Bollywood: Is India's film industry having its #MeToo moment?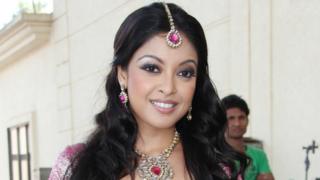 "It was really creepy because he had to put his hands all over me."
Former actress Tanushree Dutta claims veteran Indian actor Nana Patekar behaved inappropriately towards her on a film set in 2008.
The #MeToo movement - which led to thousands of people sharing their stories of sexual harassment - started nearly a year ago.
It was sparked after allegations of rape and sexual misconduct were made against Hollywood producer Harvey Weinstein, which he denies.
Now it's gaining momentum in India.
It's the biggest film industry in the world with multi-million pound productions.
But Bollywood had stayed pretty much silent on #MeToo, until now.
Tanushree Dutta claims that back in 2008 Nana Patekar demanded intimate dance steps be included in a song for the film Horn OK Please, despite her saying she was uncomfortable.
She told Radio 1 Newsbeat it was "really creepy because he had to put his hands all over me".
The former Miss India Universe, who was 24-years-old at the time, walked off set.
"I was labelled unprofessional, they called me crazy, drama queen, tantrum queen," she says.
Nana Patekar denies the allegations, which were widely reported at the time.
Nana Patekar has starred in more than 70 Bollywood movies over 40 years. The 67-year-old has been honoured in India for his dedication in Films and Arts.
When asked about Tanushree Dutta's allegations by a reporter in India, he said: "What do you mean sexual harassment? There were 50-100 people on the set with me. Will see what I can do legally."
Tanushree's allegations recently resurfaced after she was asked in an interview why Bollywood has not had its #MeToo moment.
Her reply went viral: "How is any movement going to happen in India until and unless you acknowledge what happened to me ten years ago?"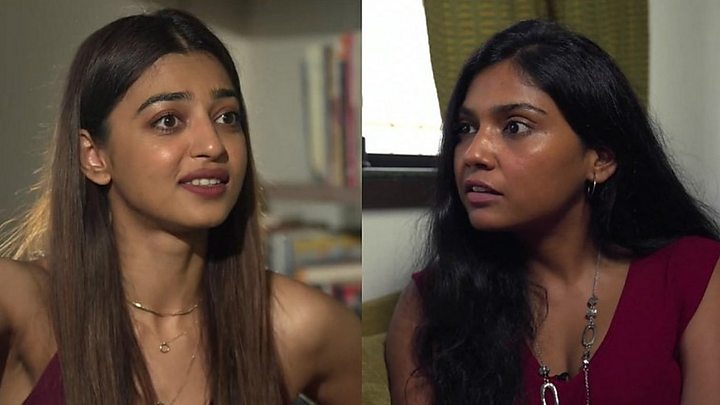 After the allegations in 2008, Tanushree left Bollywood. She says she turned down job offers because she felt "broken" and "humiliated".
"If something's not brought to justice or something's not acknowledged, you're always looking over your shoulder. So I chose to stay away from movies.
"I was also afraid that something like this might happen again and if I speak up again I will be then labelled a problematic person," she told Newsbeat.
But 10 years on, #MeToo is in the spotlight around the world.
This time, Tanushree's claims have been supported on social media, which started with journalist Janice Sequeira who was on set in 2008.
Until now, Bollywood stars had not commented on Tanushree's claims.
But many have responded to Janice's long thread of tweets, including Priyanka Chopra.
Actress Sonam Kapoor shared a post which questions why some of Bollywood's biggest male stars have shied away from commenting on the allegations.
Amitabh Bachchan is one of the most famous faces in Bollywood.
In 2016, he wrote a long open letter on female empowerment to his granddaughter. When asked about Tanushree's allegations, he said he could not comment as he is neither Tanushree Dutta nor Nana Patekar.
Salman Khan is another household name in Indian cinema and is known as the "bad boy" of Bollywood for his controversial behaviour.
He has also been criticised for his response when asked about Tanushree Dutta's allegations against Nana Patekar.
"I am not aware of this my dear, let me understand what is happening. I don't know what is being talked about," he said.
Tanushree Dutta told Newsbeat she has had some support from Bollywood, but says there are others "who have chosen to stay away or have evaded the question altogether".
"They don't want to be a part of it, they just want to ignore it and want it to go away.
"I've gone through all of it before, I see through it. But it is affecting other people who might want to come forward.
"A movement can only start when there are more people and when some strict action is taken," she says.
Sexism and sexual harassment against women in India is nothing new, but could the #MeToo movement make a difference?
"Every film industry, every work environment anywhere in the world has a problem with sexism," says Mumbai-based film critic and journalist Sucharita Tyagi.
"Now that we have a stronger voice, now that we're in our thirties, we're not scared anymore and everyone's coming together to support everybody. If someone's speaking up, believe her."
Follow Newsbeat on Instagram, Facebook and Twitter.
Listen to Newsbeat live at 12:45 and 17:45 every weekday on BBC Radio 1 and 1Xtra - if you miss us you can listen back here.