Why Kim and Kanye meeting Ugandan President Yoweri Museveni was controversial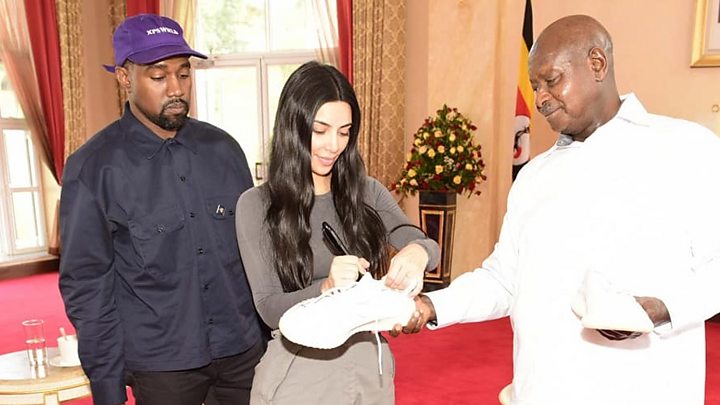 Kanye West is in East Africa at the moment recording new music.
But, along with his wife Kim Kardashian, he also took the opportunity to meet the president of Uganda, Yoweri Museveni.
The couple gave Mr Museveni a pair of Yeezy trainers - and even signed them (he asked if they were for playing football with).
But who is the 74-year-old leader, and why was it controversial for Kim and Kanye to meet him?
It all comes back to Trump
Mr Museveni is the second president Kanye has met in a week, after he spoke to Donald Trump on Thursday.
"It is an odd meeting," says Dr Jonathan Fisher, who is an expert in African politics at the University of Birmingham.
"But President Museveni is known to be quite savvy with the media," he says.
Dr Fisher thinks that meeting with Kim and Kanye is a way for Mr Museveni to put himself on Donald Trump's radar - after all, we know Kanye and Trump get on.
The benefits to Uganda could come in the form of military training, arms and development money from the US if Mr Museveni gets in Trump's good books.
'Not a safe place for LGBT people'
"Uganda is a dangerous place to be a gay person," says Dr Fisher.
That's also the case for other countries in the region but, in 2013, anti-homosexuality laws were toughened in Uganda.
Some MPs wanted to make homosexuality punishable by death.
"It luckily became more focused on life imprisonment, and that was eventually passed and signed by the president."
The law also means you can go to prison for not reporting gay people to the authorities.
In the name of democracy
President Museveni has been in power for 32 years.
In 1986, his National Resistance Movement took over the government, saying it wanted to introduce democracy to Uganda.
Instead, he banned political parties and said that anyone could run for office on their own.
But more than three decades later, he's still in power - and it doesn't look like he's going anywhere.
"There's been quite a violent response to opposition increasingly," says Dr Fisher.
He says that recently there's been "state security forces beating up opposition candidates, dispersing rallies".
President Museveni has also changed the constitution in ways which have helped him stay in power.
He abolished a two-term president limit in 2005 so that he could run (and win) again.
And last year, he got rid of the age-limit for presidential candidates, which allows him to run again in the next few years.
What came out of the meeting
We're not entirely sure why Kim and Kanye met Mr Museveni - or who instigated the meeting.
We do know that the president gave Kanye the Ugandan name "Kanyesigye", which means "I trust", and Kim was named "Kemigisha", which means "the one with blessings from God".
People magazine reported that Mr Museveni asked Kim what her job was, to which she politely replied that she had a reality show with her family.
We also know that Kanye said he "intends to put up a world class tourism school", according to Mr Museveni.
According to TMZ, Ye even said the school was going to be like "like Jurassic Park", and that he wants to make the country thrive "like Wakanda".
Follow Newsbeat on Instagram, Facebook and Twitter.
Listen to Newsbeat live at 12:45 and 17:45 every weekday on BBC Radio 1 and 1Xtra - if you miss us you can listen back here.