Aladdin: Can Will Smith follow in Robin Williams' Genie-us footsteps?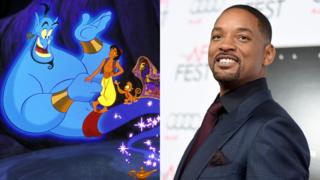 There are certain film roles embodied so perfectly by an actor that it's impossible to imagine anyone else playing them.
Think Hugh Jackman as Wolverine or Jennifer Lawrence as Katniss Everdeen in the Hunger Games.
The late Robin Williams' Genie in the original Disney animation of Aladdin fits into that category too.
It would take a very, very brave actor to even think about playing the same character, even if it has been 26 years.
Step forward... Will Smith.
He's going to play the magical character in Disney's remake, which is directed by Guy Ritchie.
And Will is pretty much the only star in this film. Mena Massoud's playing Aladdin, Naomi Scott is Jasmine and Marwan Kenzari is villain Jafar.
We got a teaser poster and teaser trailer for the new film this week, but we still haven't seen Will as Genie.
All fans get is a few frames of the new Aladdin and his lamp and a better look at the scary sand tiger.
The 1992 Aladdin is generally viewed as one of the great Disney films and was instrumental in kickstarting the brand's renaissance.
Williams, who took his own life in 2014, began a trend for big names lending their voices to animated roles.
Without Williams' Genie we might never have heard Tom Hanks as Woody in Toy Story, or Whoopi Goldberg and James Earl Jones in The Lion King.
For many, the big question is how Will Smith can make the role - much of which was famously freestyled by Williams - his own?
"What made Robin Williams so amazing is that he brought with him not just his character," says Radio 1 and 1Xtra's film critic, Ali Plumb.
"I can't imagine the actual number of impressions and allusions and references and sheer energy he brought to the role that it now feels impossible for someone to try and replicate it."
One of the successes of Williams' Genie is thought to originate from the fact that his voice was recorded before the animators designed his character.
"And because they recorded him and his voice first they could make the references to Groucho Marx or what have you," says Ali Plumb.
"You know, he does Arnold Schwarzenegger and Jack Nicholson.
"He does so many of these things and because they did it that way around they just made Robin Williams' face part of the film."
It's clear that Robin Williams, famous for his heartfelt parts in Dead Poets Society and Good Will Hunting, put a huge amount of his personality into the Genie role.
It was one he wanted to play so badly that he reportedly took a nominal fee of $75,000 for it - much less than he was earning for his other roles at the time.
For fans, Williams' Genie has such a dynamic, unique presence - and that's what gives Will Smith such a big task.
"With Will Smith taking over the role I can only hope that he does his own thing," Ali says.
"If he starts doing an impression of Robin Williams then we're in trouble.
"If Will Smith's Will Smith, then I'm very much behind that idea."
The pressure is on
Will doesn't necessarily need to worry, though.
There are actors who've very successfully reprised a role and nailed it.
Heath Ledger took over from Jack Nicholson as Joker in The Dark Knight - something unimaginable at the time - but, it worked.
In fact, it's hard now to think of anyone else as that character.
"If it weren't Will Smith I couldn't think of anybody who could even begin to take on this role and I think that's a good thing," Ali says.
"The fact that Will Smith doesn't feel wrong - is good."
Follow Newsbeat on Instagram, Facebook and Twitter.
Listen to Newsbeat live at 12:45 and 17:45 every weekday on BBC Radio 1 and 1Xtra - if you miss us you can listen back here.