50 Cent's story: From shootings to million-dollar deals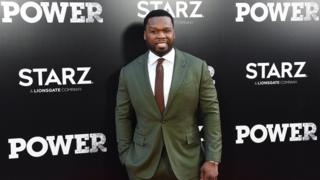 "Go, go, go, go, go, go, go shawty, it's your birthday."
That - In Da Club - was probably a lot of people's first introduction to 50 Cent, back in 2003.
15 years later the rapper has just signed a deal worth up to a reported $150m with TV network Starz - something he's labelled "the biggest deal in premium cable history".
It's the latest step in the very interesting career of Curtis Jackson.
Get Rich or Die Tryin'
50's mainstream arrival came in 2003, the year his debut album Get Rich or Die Tryin' and breakthrough single In Da Club were released - and also the year he won the BBC's first ever Sound Of award.
Get Rich was an instant classic, and it was everywhere.
BBC 1Xtra DJ MistaJam recently got fans to listen back to the album as part of Black History Month and National Album Day.
"The energy that you get from 50 Cent's music from back then is different to the kind of energy you feel now, in terms of just... gritty. You feel it in your soul.
"It was almost gritty with commercial - he mixed it very well," one of the listeners, Laura, said. It sums up his career.
The album spawned three top-10 singles and led to a number of critics calling 50 the last of the gangster rappers - which leads us on to...
Nine times
Ask someone who knows very little about 50 Cent to name a fact about the artist, and they might mention that he was shot nine times during an incident outside his grandmother's home in Queens, New York, in 2000.
He was shot in his legs, hands and face. Both of his legs were broken in multiple places. And while his injuries were horrific, the story helped build his brand in the early years.
To people listening to his music, it made it all the more authentic.
"It doesn't hurt as much as people imagine it hurts - because of the adrenaline. But it hurts after," he told Oprah Winfrey of the shooting in 2012.
"Going through that experience, when you get hurt that bad either your fear consumes you or you become a bit insensitive.
"There was a point where I was afraid... and then in the recovery process I got tired of being afraid. The only way to cover those emotions was to be a bit more aggressive. And to be angry about the situation opposed to how I was actually feeling at that point."
50 says the man who shot him is dead, and the one who paid him got life in jail.
Rap beefs
The early years of 50's career, in a lot of ways, were defined by other people.
At various times you couldn't have a conversation about 50 Cent with your friends without mentioning the likes of Ja Rule, The Game, G-Unit, Kanye West - he even had a semi-beef with Oprah prior to the interview above.
The one with Ja Rule, who grew up in the same area as 50, is the best known. It was genuine bad blood, which ended up manifesting itself in a number of diss tracks as well as serious violence.
50's beef with Kanye was a bit more industry, and it was a battle that he definitely lost.
The pair's albums Graduation and Curtis were released on the same day in 2007 and 50 Cent suggested that if Kanye's sold more than his, he would quit making music.
Graduation won and, while 50 never quit, his music didn't quite reach the same heights again.
Nowadays, rather than a microphone, Instagram tends to be 50's weapon of choice - most famously to make repeated claims that boxer Floyd Mayweather is unable to read.
Piggy bank
50 Cent loves money.
And it's certainly something he's had success getting during his career.
50 Cent's net worth has fluctuated - peaking at $155m in 2015, according to Forbes, a year when he also filed for bankruptcy.
Nonetheless, plenty of his business ventures have been successful.
His G-Unit clothing brand was successful at a time when every hip-hop artist wanted a piece of fashion, and his G-Unit sneakers in collaboration with Reebok were his day's Yeezys.
The biggest deal of 50's business career though has to be Coca-Cola buying Glaceau, a vitamin water company he had taken a 10% stake in, for $4.1bn.
It's said to have earned him anywhere up to $100m.
Power and Starz
For a lot of kids in 2003, there was nobody cooler than 50 Cent.
And he's one of the few rappers from that time who's been able to stay relevant to the latest generation of rap fans - although not necessarily for his music.
50 executive produces and stars in Power, the Starz drama that debuted in 2014 and is also shown on Netflix.
It follows Ghost (Omari Hardwick), a drug dealer hoping to turn legit, and has developed a very passionate and loyal following.
50 isn't the main character, like in his biopic Get Rich or Die Tryin' - his job behind the camera is more important.
It's why Variety reports that 50's new deal with Starz involves the artist developing scripted and unscripted TV shows through his G-Unit Film and Television company.
"He's staying relevant with whatever he's doing - even if he's not got the best track out right now we still know who he is," fan Channette Carleo said on MistaJam's show.
And with another series being picked up by ABC, it looks like 50 Cent's takeover of the small screen might only just be beginning.
Follow Newsbeat on Instagram, Facebook and Twitter.
Listen to Newsbeat live at 12:45 and 17:45 every weekday on BBC Radio 1 and 1Xtra - if you miss us you can listen back here.